'Festability' in Alcester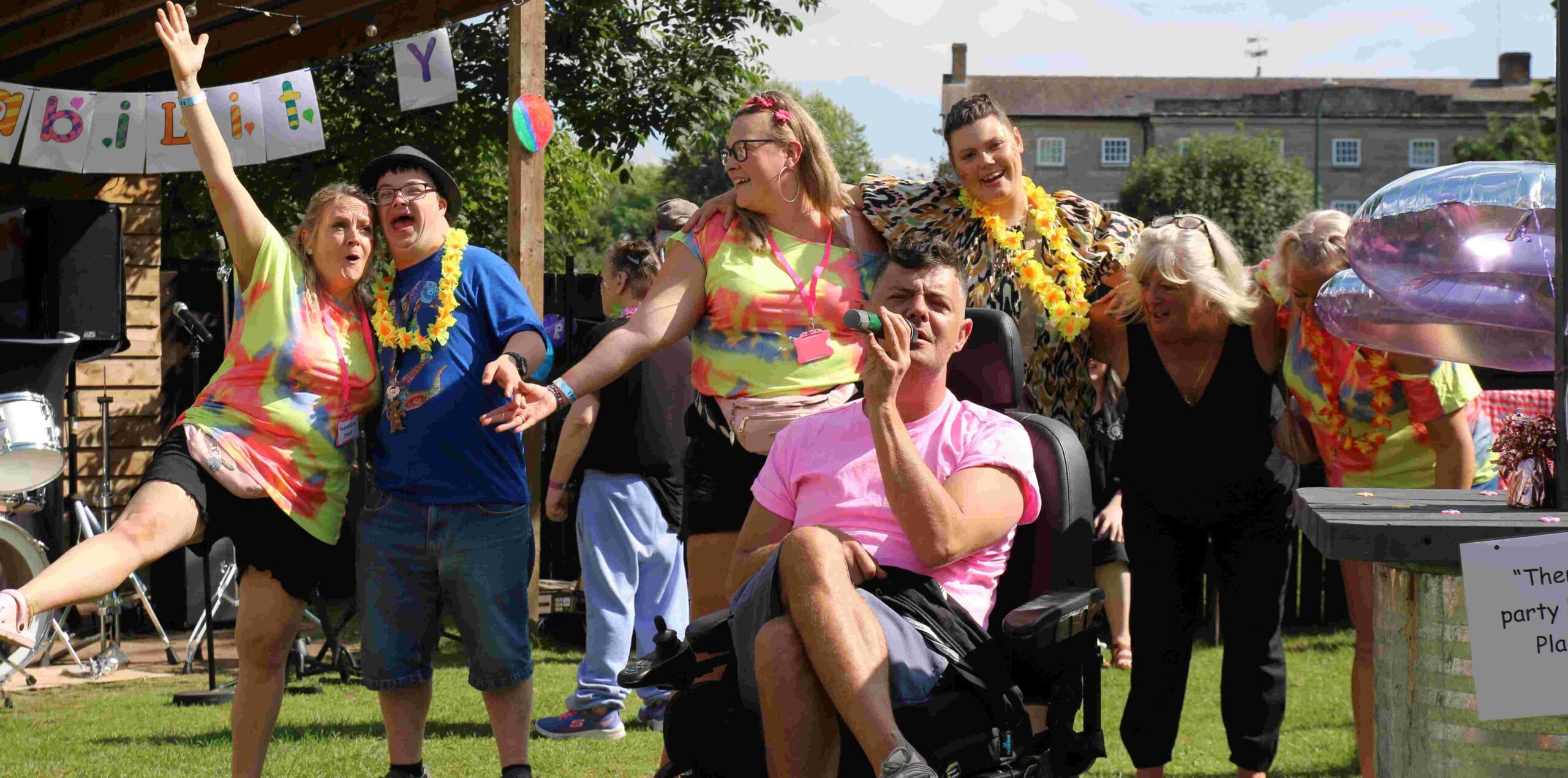 In Alcester, over 100 service users, staff, family and friends came to 'Festability', which was an action-packed day of musical talent and activities! The team received the 'Get Together' funding as part of our Festival Fiesta grant programme.
Held in the garden of their local pub, there was plenty of space for dancing, performances, selfie walls, and even glitter and hair braiding stations. "Our service is just behind the pub so we have good relations with them," said Rachel, Support Worker. "Our local disco is called Discobility, so we're carrying on the theme with Festability."
Hosting the day and playing only the best party tunes, the fantastic DJ called everyone to a dance-off to win a month's membership at a local gym. With bops like The Macarena and The Cha-Cha slide, there were some very impressive dance moves. Two of the staff members at the pub had the very tough decision of deciding a winner- congratulations to Daniella!
"I was absolutely gobsmacked when I won," said Daniella. "I love to dance. I can't believe I won!"
Next there was a game of musical statues followed by a bit of karaoke. The service were also celebrating their five year anniversary, so with a big '5' balloon it served as a joint birthday party, complete with the sign "There's no party like an Alcester party".
A local musician, Pat, blew everyone away with his beautiful guitar performance. Next was Trevor, a local busker who got everyone dancing with hits like 'Valerie'.
Everyone was very excited for Joe's performance, who is a previous tenant at one of the services. In the past he has sung in front of the likes of Andrew Lloyd Webber, and today he was an absolute star. Everyone came together to support Joe and it was a truly wonderful moment. Ending the night were Birmingham band The Last Stand before it was time for speeches.
"We would just like to say a massive thank you to all the bands and everyone who has kindly volunteered their time to help us today," said Leah, Support Worker. "Without you this would have just been a dream of ours, and you made it a reality."
George, a tenant at the service, also took to the mic to give his thanks. "I can't believe my eyes. I've been here for 5 years, I think I have the best staff ever and I want to keep staying here. Thank you to my key worker Emma, and to Leanne you are totally amazing!"
"Me, Emma and Meghan are on the Discobility team," said Rachel. "We had so many people who volunteered their time on the day such as Faith, Amy, Jude, Andrew, Leanne and Stevie, and of course Jane the DJ and all the bands. We've encountered a lot of kind helpers along our journey who we are so grateful for, and we've been asked quite a few times when we're doing another!"
There truly is no party like an Alcester party! Check out the photos below: