Referrals
---
Manchester Mental Health Referral Service
Creative Support's Manchester Mental Health Referral Service is the gateway to access accommodation, community and housing support referrals for individuals with a range of mental health needs.
View our Manchester Mental Health Services Booklet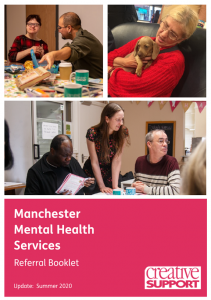 To refer an individual into a service, please complete a Referral Form.
If you are a professional completing the referral form on behalf of a service users please ensure they have seen our Privacy Statement.
If you are self-referring, please ensure you have read our Privacy Statement. If you have any queries please call 0161 236 0829 and ask to speak to the Manchester Mental Health Referral team.
---
Please note, there is a separate referral process for three of our Manchester Services. If you would like to refer into these services, please email the address detailed below:
YPS – Mental Health service, up to age 24 – yps@creativesupport.org.uk
Birch lane – Male only, 24hour Mental Health service – birchlane@creativesupport.org.uk
Shawe – Lone parent scheme – the.shawe@creativesupport.org.uk
---