30th Birthday Party in Manchester!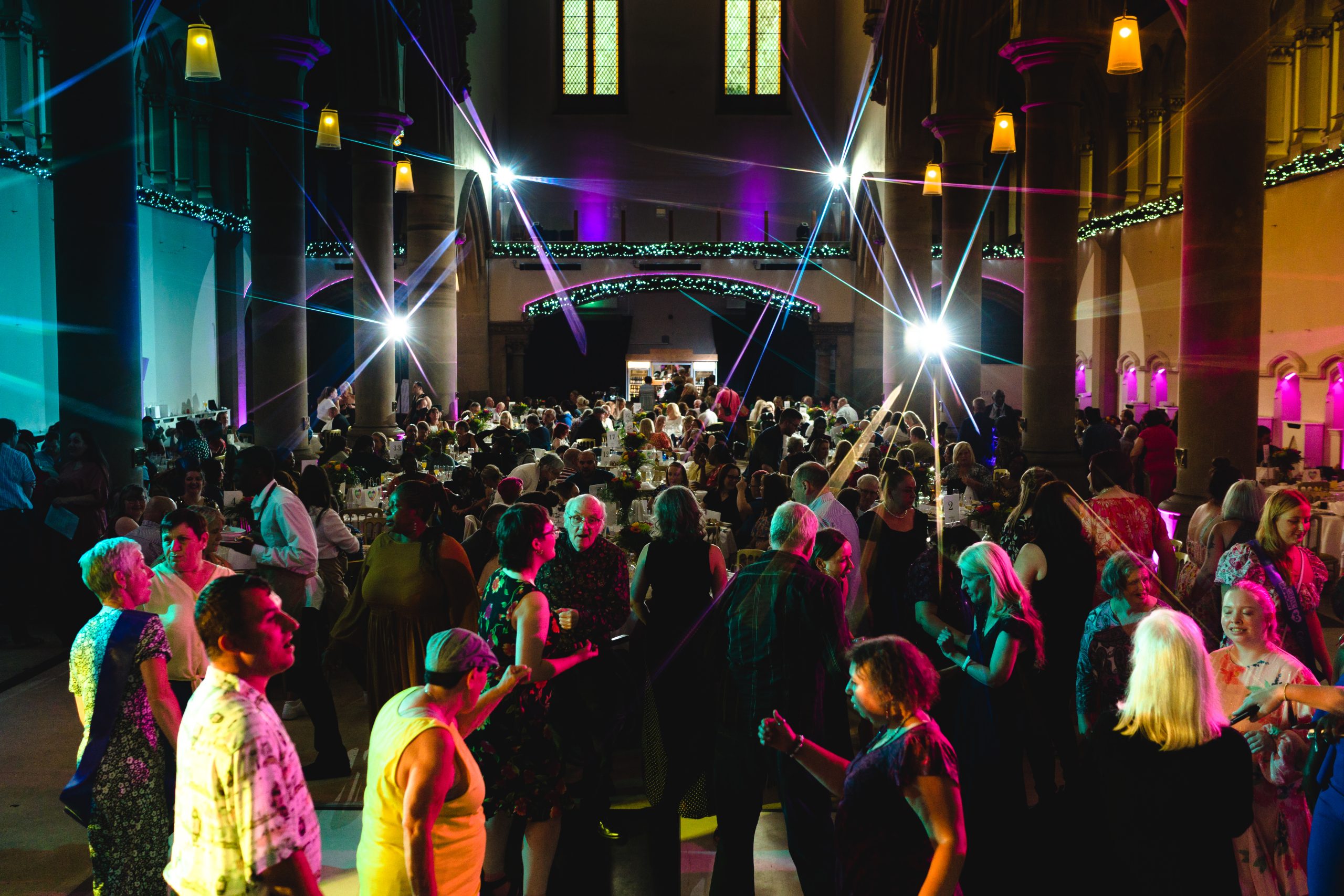 Manchester; you made it a night to remember! Our sixth and final event was our homecoming celebration in the city where it all started, at the absolutely stunning Manchester Monastery in Gorton. With almost 400 people in attendance, it was a jam-packed evening filled with inspirational moments, and we would like to extend a big thank you to everyone who made the day so special.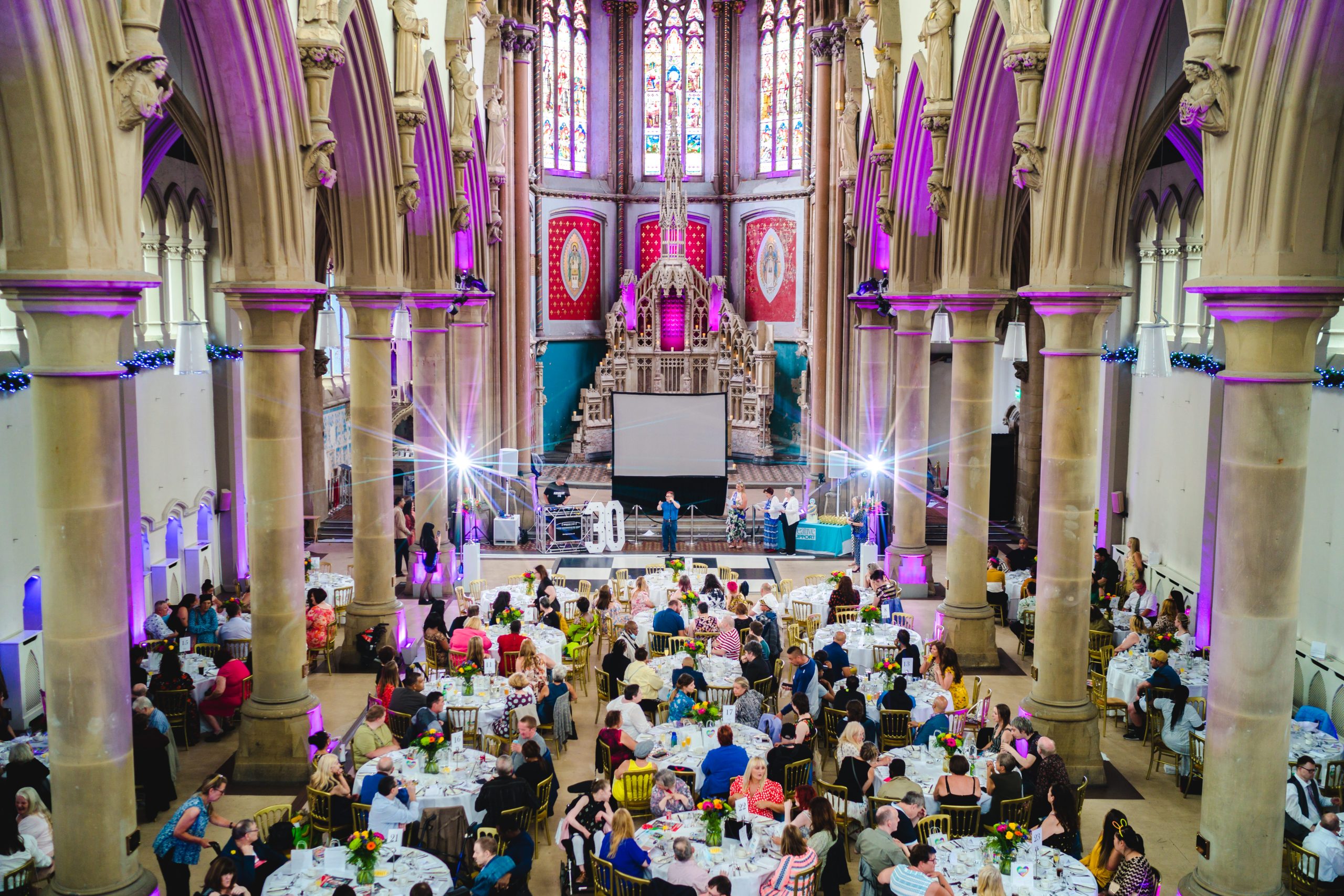 Guests were welcomed in by the wonderful Neil and Fraser and given a glass of alcohol-free bubbly and delicious canapés. Everyone was then treated to the angelic singing of Lexi, a person we support in Leeds. In the courtyard, we had a wonderful drama performance from Creative Together highlighting that not all disabilities are visible- a very important message.
As guests poured into the main hall and took their seats, Directors Leigh and Julie along with Helen, a person we support in Manchester, kicked off the whole show with their welcome speeches. Next, everyone was shown a highlights reel from all of our 30th events in Durham, Doncaster, London, Birmingham, and Blackpool. We're already feeling nostalgic, can we do it all again?!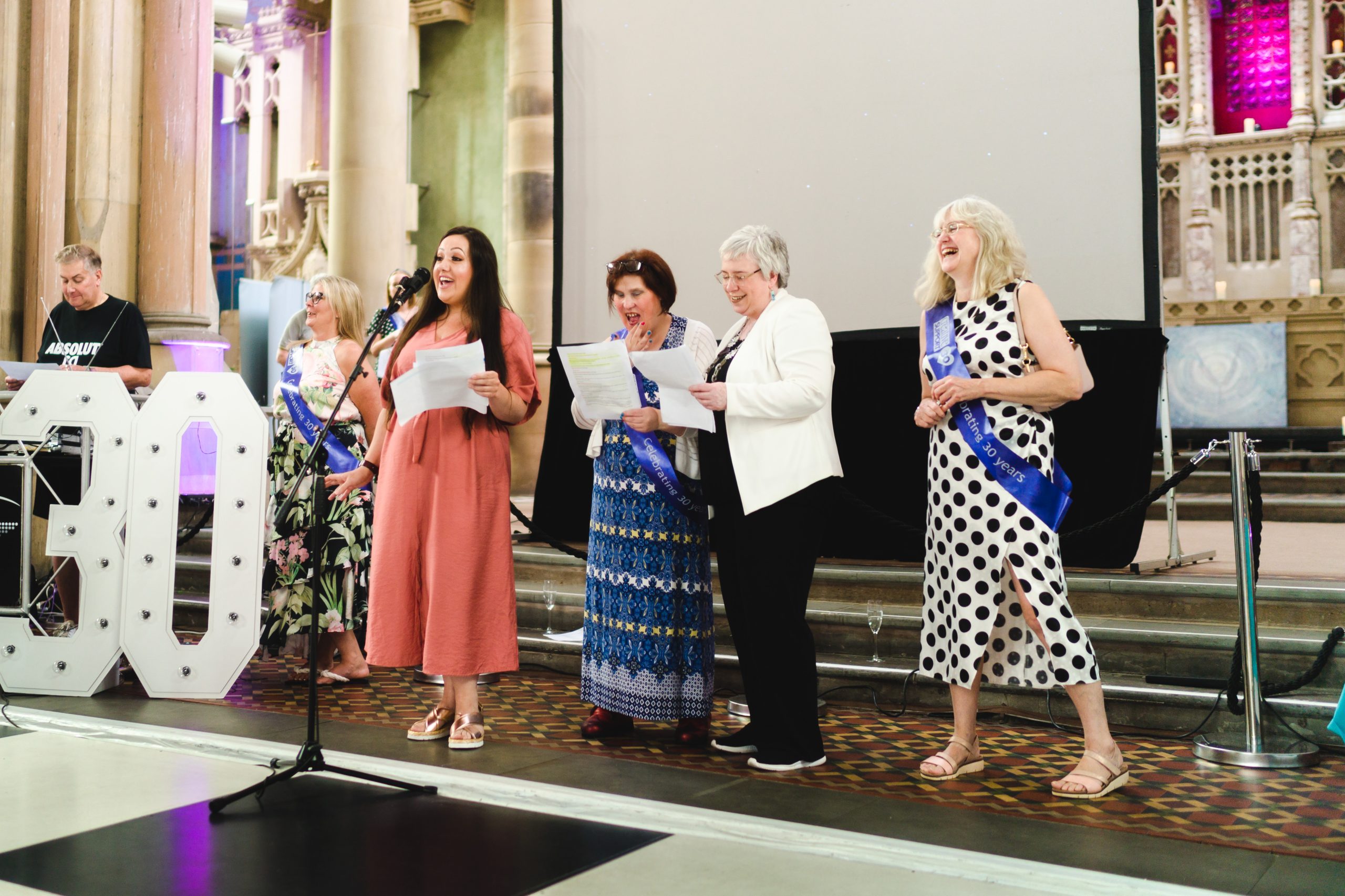 This was followed by our '30 Years 30 Voices' video, where people we support and members of staff shared their favourite thing about Creative Support. A member of staff told us that he loves the "everyday opportunity to empower people to live their best lives," while a person we support said "everybody is so helpful and friendly, it's a lovely place to be." Both of these videos will be available to watch on our YouTube channel soon.
As the starters were served, Mark from Doncaster entertained us with a cover of 'I'd Do it For You' by Bryan Adams. This inspirational song lead nicely into the next part of the day- the awards!
The first round were for our amazing staff. "Members of staff go above and beyond on a daily basis. They help make people's dreams come true and that is no small feat," said Leigh. These went to Elaine and Laura from Stockport, Charles in Tameside, Diane in Manchester, and Julie-Ann from Tameside. A huge congrats to you all!
Next, we had group awards for all the staff and service users who have displayed incredible levels of commitment, support and hard work throughout the past few years. The awards went to: Bedford Supported Living, Catherine Road, Kwanza House, Northowram, 121 Town Lane, Leonora Street, Birch Lane, Hilltop, Pelham House, Birchwood Court, Warwick Drive, and Penthouse, who have all displayed incredible levels of commitment, support, and hard work throughout the past few years. Congratulations to you all, your awards are so very well deserved and you should be very proud of yourselves and your service.
We then rounded off by celebrating the wonderful people we support. "You inspire us and move us with your incredible strength and determination, and the things you have achieved in the past few years during the pandemic have been nothing short of extraordinary," said Leigh.
Celina from Manchester won an award for leading the Creative Together garden group. "I worked very hard on my garden!" she said. Well done Celina!
As the main course was brought out, the hugely talented Holly from Grimsby (our Creative Life cover star!) serenaded us with a selection of songs which got everyone up on the dancefloor! Thank you so much for coming down and singing for us once more Holly, it's always an absolute pleasure. Lexi, who sang everyone into the venue, brought the house down once again with her emotional cover of 'See You Again', which she even wrote her own lyrics to. Dedicated to one of the former members of staff at her service, her voice and lyrics were an absolute powerhouse. "That meant everything to me." said Lexi.
Finally, we awarded our incredible longstanding members of staff. "It takes a lot of dedication and hard work to be a superstar member of staff, especially for years on end," said Julie. An astounding achievement for the 23 members of staff who were recognised today, here's to many more years!
Next, we had even more wonderful singers take to the stage, with Peter singing 'Chasing Cars' by Snow Patrol, Liam with 'Wedding Days' by Frank Sinatra, and Latour with 'Strangers in the Night' by Frank Sinatra. Wonderful work gents, thank you so much for sharing your talent with us!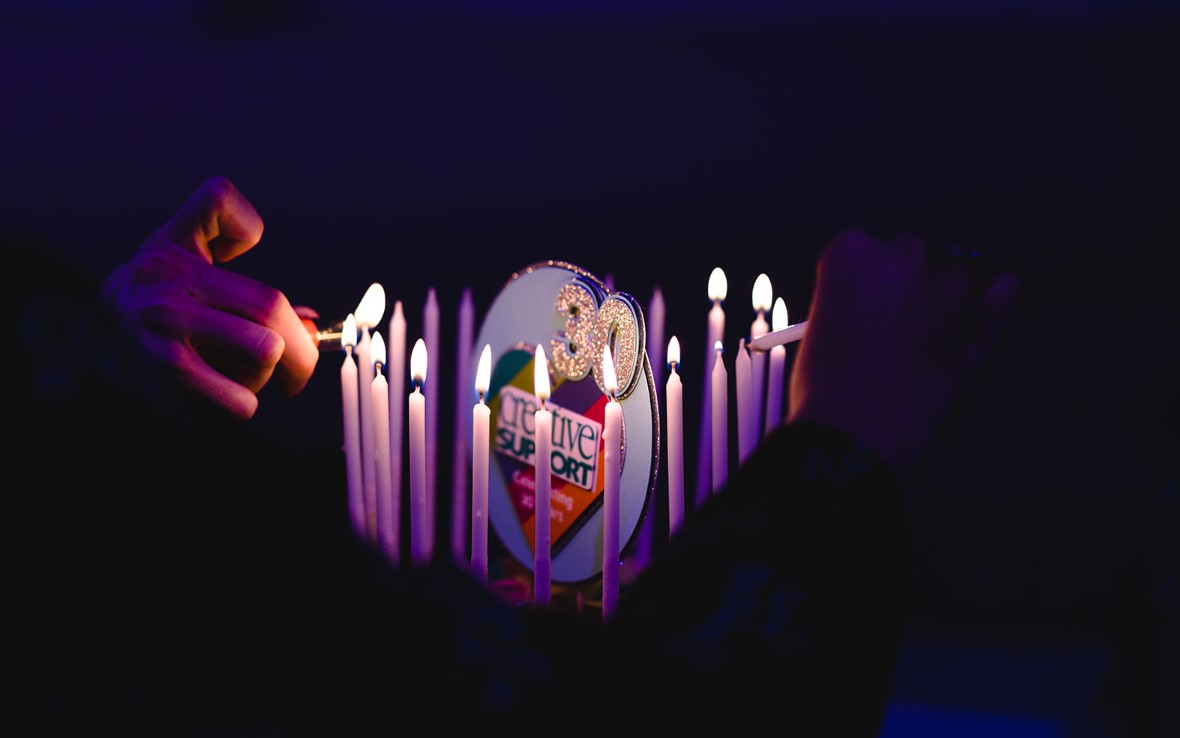 DJ Stuart came up and played us some absolute tunes, getting everyone on to the dancefloor and in the mood for desert! As the sticky toffee pudding dessert was served, it was time for a raffle followed by the best part of any birthday party- blowing out the candles on the cake! The whole hall echoed with everyone singing happy birthday before Anna and host Helen blew out the candles- we hope you made a wish that we could do this all again!
Director Mahip from London then took to the stage to introduce CEO and Creative Support founder, Anna Lunts: "A young professional working at that time has recently attended an interview with an opportunity and chance to start an organisation that would work with vulnerable adults in the Greater Manchester area. Thus Anna Lunts started her extraordinary journey to develop the foundation of Creative Support, and the rest, as they say, is history."
Anna came to the stage following and began by thanking everyone for being here for this momentous occasion. "31 years ago, I couldn't imagine being here with you all, celebrating 30 years of Creative Support. I was just 30 at the time, working at an old run-down psychiatric hospital. Too many people were living limited lives and I was frustrated by the slow-pace of change in the mental health system." She explained how 'The Manchester Housing Consortium' was founded, and how it grew into the Creative Support we know today.
Colette, one of our wonderful Directors in Manchester, took to the stage to speak about one of our Directors Shaun, who sadly passed away in 2016. Shaun started at Creative Support in 1998 and worked his way up over 18 years to become a Director. Colette said "he was a friend and colleague to many of us, and left a real and lasting legacy across all of his services and the organisation. Shaun was kind and compassionate and committed to providing people with the best possible care and support." After sharing moments of Shaun's life with us, Colette concluded with the fact that a picture of Shaun is kept in our Sale office, and that the team often look to him "not just to remember a lovely person, friend and colleague, but because he was a true inspiration."
Joolz from our Board of Trustees rounded off the speeches for the evening and reminded everyone of how astounding 30 years really is. "30 years is 10,950 days, and each of you have given up some of your time to serve the mission of Creative Support. This really is an evening of celebration," she said, before asking everyone to turn to the person closest and asking them what they are grateful for during their time at the organisation.
To close the whole evening, the immensely talented Annabel from Whitby hula hooped to 'Mickey' by Toni Basil and knocked everyone's socks off. Thank you so much for coming to the event Annabel, your hooping will go down in history!
We can't say thank you enough to everyone who made our 30th birthday celebrations so special. Every attendee, host, entertainer, and special guest did such an incredible job, you really blew us all away and made each event so memorable. To the teams behind the events in each area, we thank you all for your time and dedication to making each event run smoothly, and know it couldn't have been done without you. We're so sad to have come to a close of our 30th celebrations, but here's to the next 30 years of Creative Support and we hope to see you all again soon.
Please click any image to launch the gallery