Volunteer Appreciation Award WINNERS!

As we round up National

Volunteers Week

, we want to say thank you to everyone that submitted nominations for our Volunteer Appreciation Award.
We had such a tough time narrowing it down that instead of three winners, we have SIX fantastic winners!
All six winners have won a We Care hoodie in a colour of their choice, and a special box of Hotel Chocolat chocs!
---

Annabel Harvey- Disco  Support Volunteer, Stockport
Annabel was nominated for her dedication to the Stockport Disco every week.
Her nomination read "I would like to nominate Annabel who volunteers at the disco on a Tuesday evening. She really  gets involved with with the service users and helps with the food prep. She is committed and ensures everyone enjoys themselves, especially with Annabel's dancing!"
Annabel said: "I absolutely love volunteering at the disco; it truly is the highlight of my week. For my efforts to be recognised is really lovely, and I'm excited to wear my new gorgeous lilac hoodie!"
Enjoy your hoodie Annabel, and thanks for all your help and support!
---
Meena Patel- Admin and Group Support Volunteer, Dudley
Meena was nominated for helping out with group sessions and being a warm and friendly face in the front of house team. She is "always smiling, loves talking to people, and has lots of energy and always wants to help out." In particular, she helps to set up and run the mindful colouring-in sessions, and even joins in to show everyone how fun the activity can be!
"Thank you so much for the award, it is great to be appreciated and awarded for the work I have done," said Meena. Well done!
---
Winnie Chan- Befriender, London
Winnie in London was nominated for organising and delivering Zoom art sessions, as well as being a fantastic befriender. "Winnie began volunteering as a befriender and having weekly chats with a resident from Donnybrook Court," read her nomination.
"After the success of Winnie's befriending work, we developed an additional activity for her to lead. Winnie has great knowledge of the arts so we began doing Zoom Art sessions. Winnie plans, organises and delivers the sessions with help from me. Winnie puts a great deal of time into the preparations and gives a lot of energy to making it engaging for residents. She offers lots of encouraging feedback and the residents have really enjoyed learning and creating art."
When learning of her win, Winnie said "It is a real honour to receive the Volunteer Appreciation Award 2023. Thank you Creative Support for this unique volunteering opportunity to serve in a wonderful community. It has been an absolute pleasure working with you and needless to say I have enjoyed every moment of interacting with the residents." Amazing work Winnie!
---
Pippa Holt – Activities Assistant, Manchester
Pippa helps out with the art sessions at Creative Together, welcoming everyone to the centre and making sure they have everything they need. "Pippa has really embraced her volunteer role since she took on extra responsibilities in our art sessions earlier this year," read her nomination. "Already a familiar face with service users, Pippa now actively welcomes members to the Creative Together Centre, making sure they have all the materials they need and making refreshments. Everyone at the Centre really appreciates the friendly way Pippa approaches her work and it's been great to see her confidence grow in all areas as she has settled into her new role."
Well done Pippa, everyone really appreciates your hard work and dedication.
---
John – Head Office Volunteer, Stockport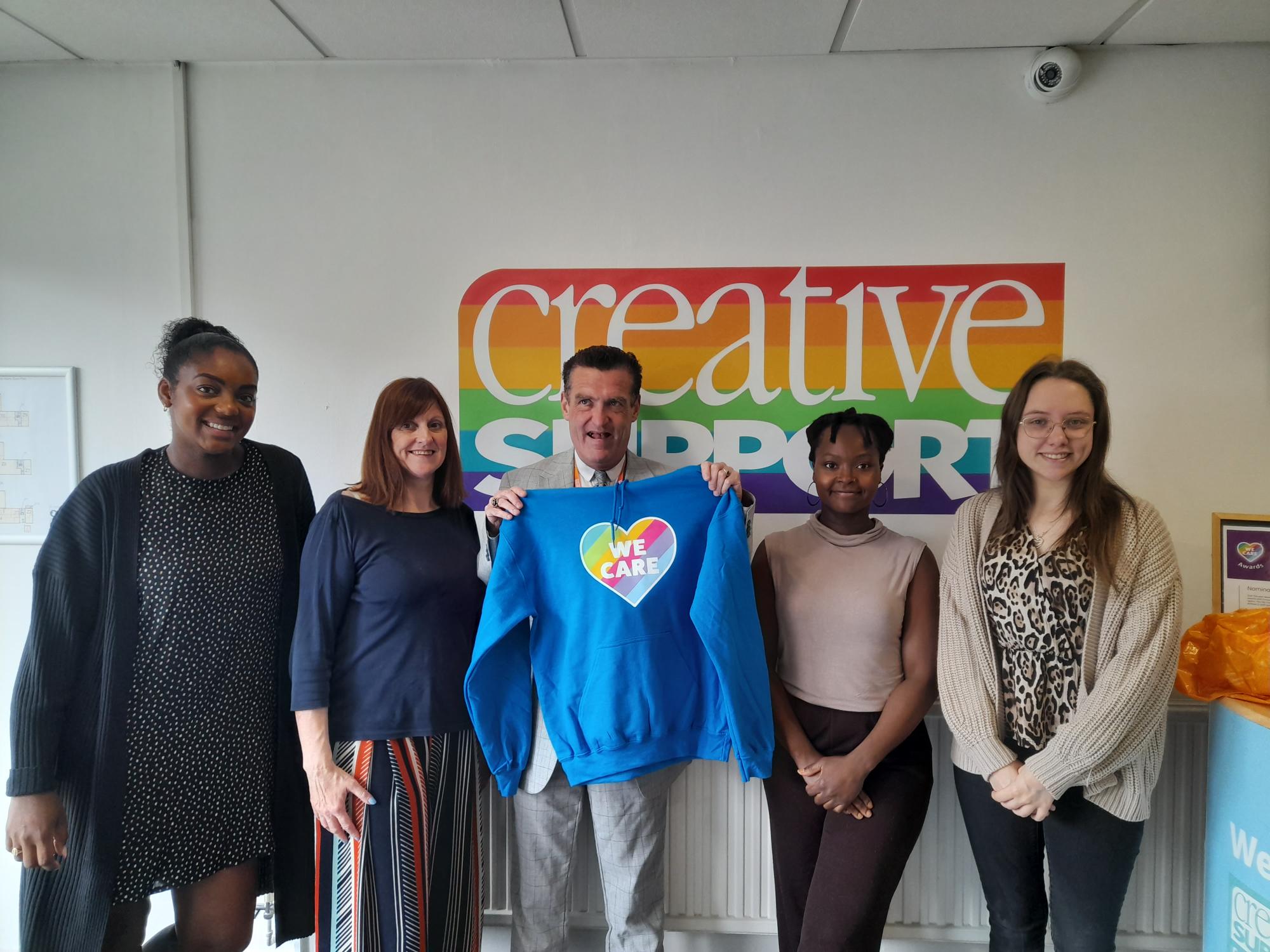 John is our service user volunteer at Head Office, and is a "ball of energy" when he comes into reception on a Monday morning. "He always has a cheeky smile, along with a story to tell from the weekend, and always offers you a cup of tea or coffee."
The reception team have been very busy lately, and John is always willing to help and get stuck in with any task. He loves talking to people and does a great job at the meet and greet stand. Recently he has been helping marketing to prepare nearly 1000 packs for the staff birthday gift incentive!
John will sometimes take Anna Lunts a coffee in the morning. On one occasion he realised she wasn't in the building that day, so he told the team he was the CEO of Creative Support, and that he was the boss for the day because he was drinking the boss' coffee! John has a "real energy and charm" and everyone loves having him at Head Office. Great work!
---
Kate Ellis – Activities Assistant, Manchester
Kate is "reliable, conscientious and much-valued" in her role at Creative Together. "As well as helping to set up our weekly bingo sessions, she is always on hand to support service users who need a bit of extra help spotting their numbers. She does this in a sensitive and friendly way, which makes everyone feel included and part of the group."
"I am extremely proud to be given this award," said Kate. "I have been volunteering for Creative Support for quite a few months now and I love it more than ever! When I am volunteering at Creative Support, I feel very useful and I get great satisfaction from providing the support which allows some service users to take part in activities. The paid staff and service users who I work with are brilliant fun, and are always patient and understanding about my disability and my additional needs. Volunteering for Creative Support is also great because it adds some more structure to my week, and it continues to act as a stepping stone which will hopefully result in me returning to paid work."