The Big Event at Creative Together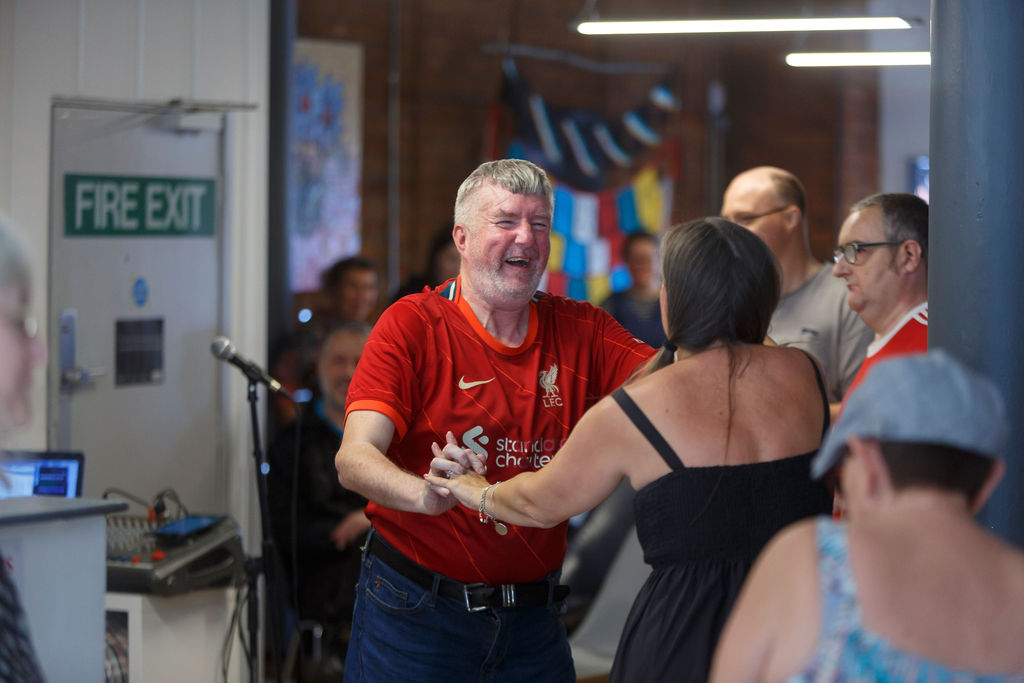 Over the weekend, we had 'The Big Event' at our Creative Together centre in Manchester, celebrating all of the members and the amazing work they do at the centre. Centre co-ordinators Zoe and Claire worked so hard to make it a jam-packed day of entertainment, including karaoke, open mic, poetry, lip-sync battles, and live drumming- it's safe to say there was plenty of laughter and dancing.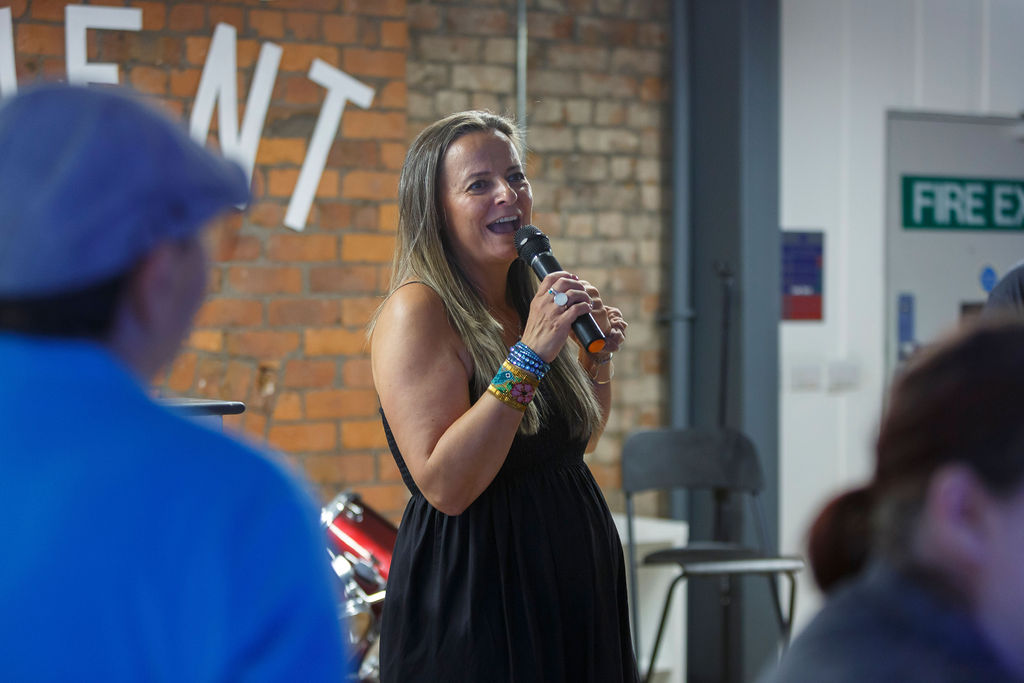 Zoe took to the stage to welcome all of the members, friends, family and staff to the event, emphasising how proud she is of all of the centre members who work so hard to learn new skills, improve their confidence, and make new friends. "It's not just about what we do here, it's what we have the possibility to do here," said Zoe. "It's about the connections we make."
First up, we kicked things off with karaoke to showcase our singing superstars! Carole was first up, taking us on a trip to Italy by serenading us all with her cover of 'That's Amore'. Antony got the party started with his cover of 'Sit Down' by James, followed by Simon with 'Human', a classic from the Killers.
It wasn't all just song and dance, as we were then treated to some beautiful spoken word and poetry. Carolyn touched us all by reading aloud her beautiful writing piece that paid tribute to Her Majesty Queen Elizabeth II, which you can read here. Lyndsey then played us her own powerful video, centred around the message that not all disabilities are visible, and performed her poem alongside.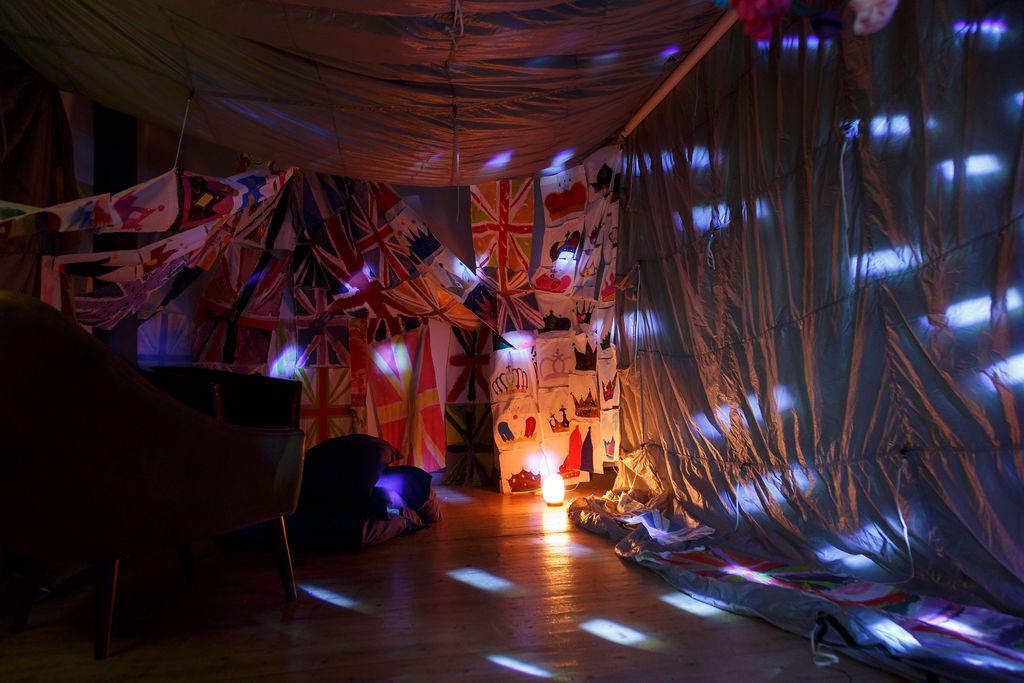 A very exciting part of our day was the launch of our brand new Podcast project, featuring the members of Creative Together who kindly shard with us their stories and lived experience with disabilities and support needs. For those who wanted a quiet moment away from the party, they could sit in our relaxing, sensory Podcast Room and listen to the voices of Carolyn, Sara, Kim, Steven, Edward, Sarah and Bex. We will be publishing these podcasts online really soon, so watch this space!
Next up, we had some live music by John from Makonnen House, as he took it away on the bongos and really got the party started! After lunch, it was time for our lip-sync battle, hosted by comedian Kenny Mills, who got the whole crowd laughing before any music had even begun. To start things off, Zoe got us spinning around to her cover of Kylie Minogue, with an absolutely dazzling disco-ball-helmet that turned the whole room into a lightshow, with help from her handy torch-assistant Bex.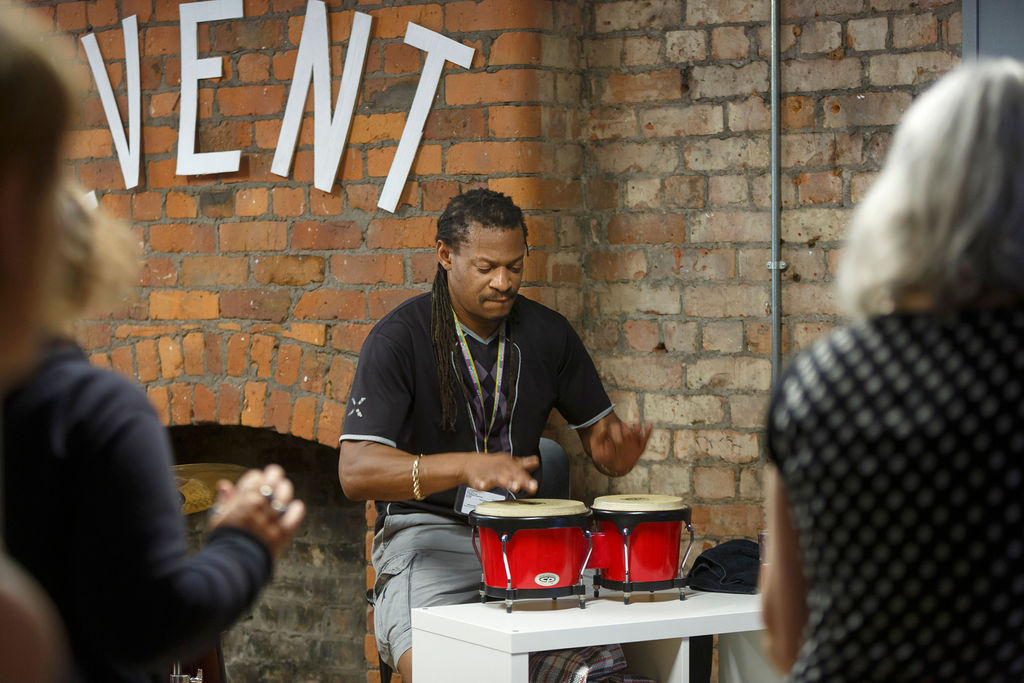 Our battle was fought long and hard, with many fierce contenders. Bon Jovi (Edward) rocked out on his inflatable air guitar, the Spice Girls (Sara and Pauline) got us bopping to Wannabe, Elvis (Steve) got us all jiving, Shania Twain (Bex) made us want to put on our cowboy boots, and Steve took it away with the Cha-cha Slide- who could resist joining in?!
To round us off, John hopped back on the drums to Phil Collins- an absolute classic! We all boogied away until it was time to go home, and what a day we had. We can't believe how many performing stars we had amongst us- some true talent! Thank you to everyone who performed, judged, and shared your talents with us, and to everyone who came to support. It's been an unforgettable day, and we can't wait to do it again!
Check out our photo gallery below. Click on any image to enlarge: