We Care Awards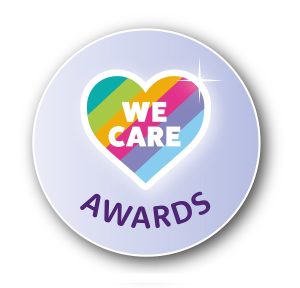 ---
Recognising our Exceptional Staff
Creative Support strives to achieve a high quality service at all times, through our support workers, service managers and teams based in our offices nationwide. Since we launched our internal Achieve Q Awards back in 2017, we have presented over 450 awards, acknowledging the excellent care and best practice that our staff provide. Our awards have recently been rebranded to the WeCare awards, aligning with our new company values.
Anyone can get involved to ensure our staff are recognised for WeCare – staff, managers, service users, their families are all able to nominate an individual or team.
---
What does WeCare mean?
The WeCare acronyms are: Welcoming, Empowering, Compassionate, Aspirational, Respectful and Effective
---
What is different about the WeCare awards?
We want to continue to recognise the exceptional efforts our staff are making at this time:
The awards will now be taking place every two months
There will be specific recognition for efforts relating to Dignity in Care
A brand new dedicated judging panel has been formed, with knowledge of good practice across the company
---
Reasons to nominate and individual or team today!
Whether you would like to thank an employee or team to acknowledge staff interventions, that have led to positive outcomes, teams or departments that are achieving quality, and working to the attributes expected within WeCare. We would also welcome nominations for those who have provided the most compassionate and dignified end of life care, a positive external inspection, or internal quality visit, or something such as a successful event or piece of work that has taken place.
---
How do you nominate?
We want to encourage as many people as we can to nominate their colleagues, support workers, managers or teams:
Nominations can be submitted via the online form and via email to wecare.awards@creativesupport.co.uk
---
Prizes
The winners will receive a voucher, award, and certificate. As well as this they may also be invited to attend a WeCare panel, but more information will be provided in due course.
---