Read our latest issue of Creative Life Magazine!
We are pleased to announce that our latest edition of Creative Life magazine is now available to read and enjoy! In this issue, we have included a number of inspirational stories from people across the country who have learnt new skills, helped others and made the best of their time at home, during what has been a very difficult year.
Creative Life wouldn't be the same without the amazing people who share their stories – so we would like to say a big thank you to all the staff and service users who got involved! If you would like to contribute to our next edition of Creative Life, please do get in touch with marketing@creativesupport.co.uk
Creative Life Magazine – Issue 34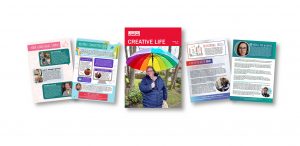 We are posting a copy of Creative Life to all our services, but if you would like extra copies, then do get in touch with Marketing, and we can send you more! You can also read it online here!