Mental Health Awareness Week; Resources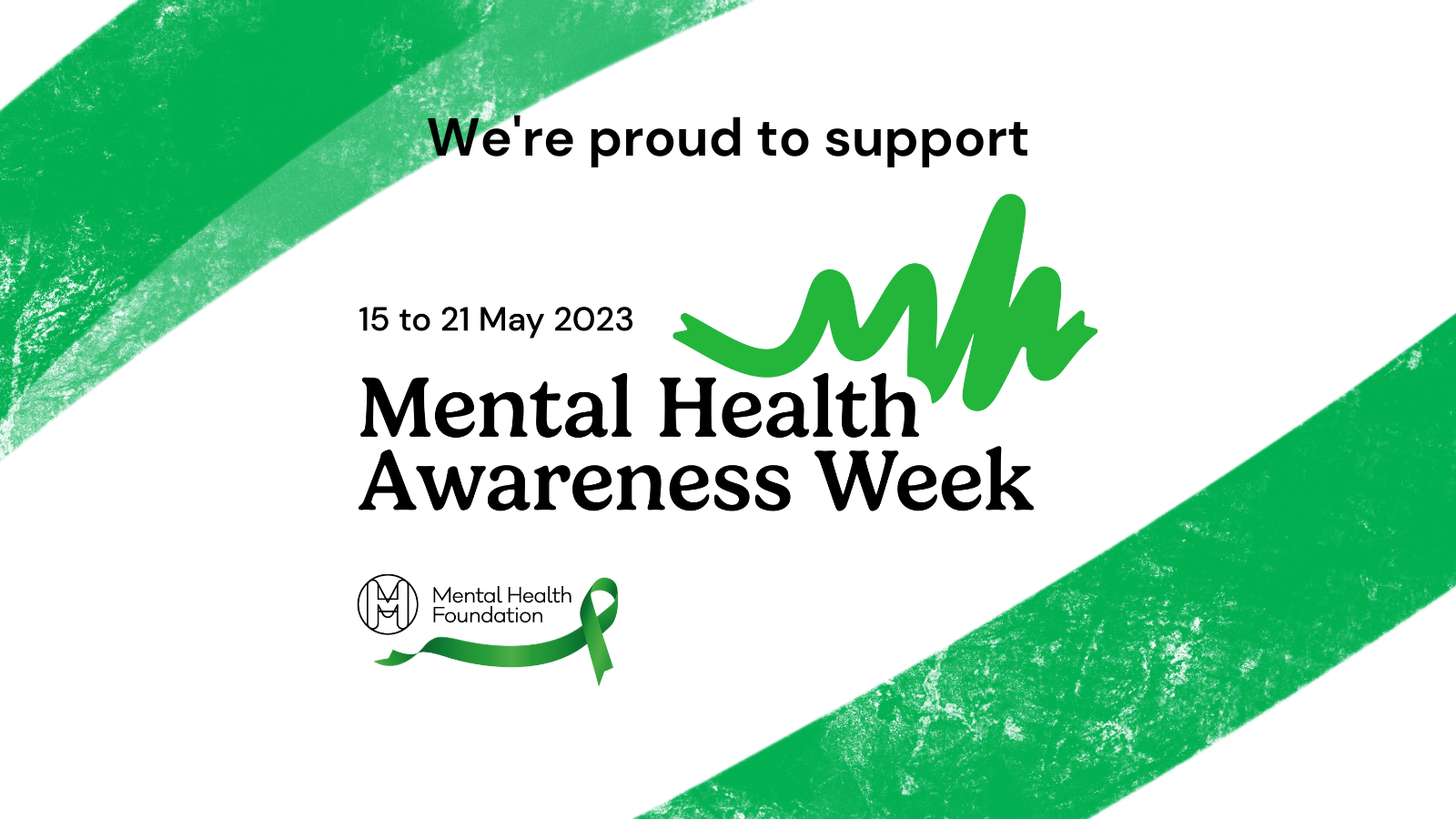 Today marks the beginning of Mental Health Awareness Week, an opportunity for everyone to learn more about mental health to support ourselves, our friends and family members.
Taking care of your mental health is so important. We look after our physical bodies, and often forget about our brains, but they need care too to ensure we can live longer and happier lives. The theme for this year's MHA week is 'anxiety' which is something many of us will be familiar with. Anxiety is a condition or feeling of fear or unease, that can affect people of all ages at different times in our lives. If you experience anxiety regularly and it impacts on your life, you may be diagnosed with an anxiety disorder and can access support to help create strategies to combat anxiety. If you ever struggle with anxiety, or another mental health issue, please know that you are not alone and there are people and places out there that can help support you through tough times.
Please check out our resources below to find support in your area, including crisis cafés which offer a kind ear from trained mental health professionals for a less clinical approach.
Resources
UK wide: https://www.nhs.uk/service-search/other-services/Mental-health-support/LocationSearch/330
Every Life Matters: https://www.every-life-matters.org.uk/get-help/
North West
Greater Manchester Crisis Café: https://www.gmmh.nhs.uk/no-93-crisis-cafe/
North West Virtual Haven: https://www.mhm.org.uk/north-west-boroughs-virtual-haven
Macclesfield: https://www.echc.org.uk/services/crisis-cafe/
Port In The Storm, Cheshire West: https://cwc-live.occsites.co.uk/Services/2996
Live Well, Liverpool: https://www.thelivewelldirectory.com/Services/721
West Cumbria Mental Health: https://wcmhp.org.uk/
Living Well, Cumbria: https://livingwell.cumbria.gov.uk/web/portal/pages/help/disability/mentalhealth
North East
Newcastle Mental Health: https://heatonroadsurgery.nhs.uk/patient-info/mental-health-resources-available-in-newcastle/#
Durham Mental Health Support: https://www.durham.gov.uk/adultmentalhealthsupport
Safe Space, Grimsby: https://navigocare.co.uk/what-we-do/services-z/safespace?occurrenceID=27892
Night Light Cafés, Lincolnshire: https://www.lpft.nhs.uk/Night-Light-Cafes
Well Bean Hope in a Crisis, Leeds: https://www.lslcs.org.uk/services/well-bean-hope-in-a-crisis-cafe/
Scarborough Survivors: https://scarboroughsurvivors.org.uk/
Well Bean Hope in a Crisis, Huddersfield: https://touchstonesupport.org.uk/intensive-community-support/wellbean-cafe/well-bean-hope-in-a-crisis-cafe-kirklees/
Wellbeing Support, Yorkshire: https://northyorkshireccg.nhs.uk/your-health-and-local-services/adult-mental-health/
Talking Shop, Doncaster: https://www.england.nhs.uk/mental-health/case-studies/archived-mental-health-case-studies/doncaster/
Midlands
Birmingham and Solihull Mental Health Support: https://www.bsmhft.nhs.uk/
Birmingham and Solihull Crisis Café: https://www.bsmhft.nhs.uk/about-us/news/2021/crisis-cafe/
Leicestershire Mental Health Support: https://www.leicestershire.gov.uk/adult-social-care-and-health/mental-health/mental-health-information-advice-and-support
LAMP, Leicestershire: https://www.lampadvocacy.co.uk/
Crisis Skylight, Oxford: https://www.whatsoninoxford.net/crisis-cafe/
Safe Haven, Oxford: https://www.oxfordshiremind.org.uk/the-oxford-safe-haven/
Greater London
Mental Health London: https://myhealth.london.nhs.uk/health-and-wellbeing/mental-health/
London Health and Wellbeing: https://www.cityoflondon.gov.uk/services/health-and-wellbeing/mental-health-and-wellbeing
West London NHS: https://www.westlondon.nhs.uk/our-services/adult/mental-health-services
Islington Out Of Hours Crisis Café: https://www.islingtonmind.org.uk/our-services/integrated-community-support/ooh-crisis-cafe/
The Harbour, Lewisham: https://slam.nhs.uk/service-detail/service/crisis-cafe-212/
Walk in Crisis Café, City and Hackney: https://www.elft.nhs.uk/services/walk-crisis-cafe-city-hackney
Tower Hamlets Together Cafe: https://www.hestia.org/tower-hamlets-together-cafe
South East
Porchlight, Kent: https://www.porchlight.org.uk/information-support/list-of-support-services?gclid=EAIaIQobChMIrqaT2-Ll_gIVkrrtCh02awyOEAAYASAAEgKjcPD_BwE
NHS South East: https://www.england.nhs.uk/south-east/our-work/mental-health/
Sussex Mental Health: https://www.eastsussex.gov.uk/social-care/health-advice/mental-health/east-sussex-mental-health-directory/services
Hampshire Mental Health Services: https://www.hants.gov.uk/socialcareandhealth/adultsocialcare/mental-health
NHS Berkshire Mental Health Support: https://www.berkshirehealthcare.nhs.uk/our-services/mental-health-and-wellbeing/
West Berkshire Mental Health: https://www.westberks.gov.uk/article/38956/Mental-Health-Sources-of-Help-and-Support
Berkshire West Crisis Café: https://www.together-uk.org/projects/berkshire-west-breathing-space/
South West
Windmill Hill City Farm, Bedminster: https://www.windmillhillcityfarm.org.uk/services/health-and-social-care/?gclid=EAIaIQobChMIp5uJguXl_gIVFeDtCh2P-gtsEAAYAiAAEgKRUvD_BwE
Thrive, Bristol: https://www.thrivebristol.org.uk/
Off The Record, Bristol: https://www.otrbristol.org.uk/
Second Step, Bristol: https://www.second-step.co.uk/wellbeing-colleges/bristol-wellbeing-college/
Bristol Mental Health Resources: https://www.bristol.gov.uk/residents/social-care-and-health/adults-and-older-people/mental-health-services
Cornwall Mental Health Support: https://www.cornwall.gov.uk/health-and-social-care/mental-health/coronavirus-and-mental-wellbeing/mental-health-support/
Devon Mental Health: https://www.devon.gov.uk/care-and-health/mental-health/
Mental Health Matters, Devon: https://www.mhm.org.uk/the-moorings-devon
West Devon Mental Health Support: https://www.westdevon.gov.uk/article/8533/Mental-Health