LGBTQ+ and Eurovision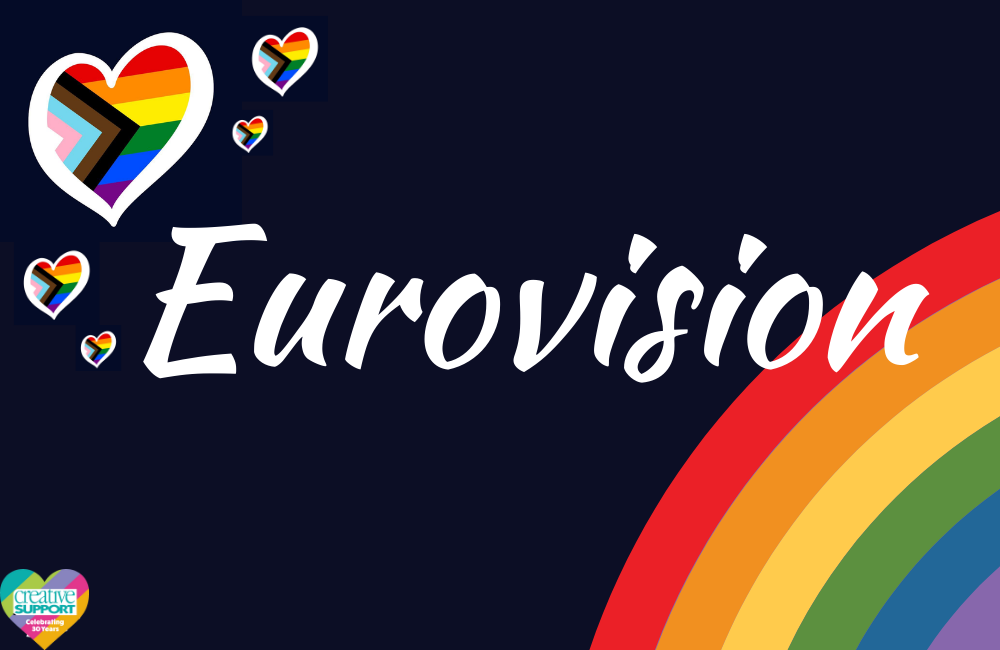 Rebecca from the LGBTQ+ Network has written on the history of Eurovision and how intertwined the contest is with the LGBTQ+ community and culture.
---
I think we can all agree that Eurovision is a music event like no other! With catchy songs, dances, gimmicks, outfits, pyrotechnics, and glitz and glamour in no short supply, it's a camp and cultural ride which millions enjoy every year. For a long time, the LGBTQ+ community have been a huge part of Eurovision, with some going as far as to call it 'Gay Christmas', but what are the actual ties to the community?
One of the contest's earliest winning songs was Luxembourg's 1961 classic 'Nous Les Amoureux' (We The Lovers). Jean-Claude Pascal, the singer, confirmed the song includes references to a homosexual relationship and the difficulties faced by the pair. While this song didn't resonate with me for stylistic reasons, I do appreciate the same-sex relationship reference all the way back in the 60's when homosexual relationships were still widely criminalized.
Katrina Leskanich from Katrina and the Waves, who won representing the UK in 1997 with 'Love Shine A Light', later came out as a lesbian. At the time of writing this article, this was the last time the UK won Eurovision (although I'm keeping my fingers crossed for this year!). As an additional fun fact, Katrina is the first American to win Eurovision.
The following year in 1998, Dana International won representing Israel. She was the first openly transgender performer at Eurovision, and won with the hit song 'Diva' which is an ode to the powerful women in history and mythology. Sadly, but not surprisingly, following her performance she faced objections and even death threats from Orthodox Israelis. She had to be put up in accommodation in Birmingham with bulletproof windows for her safety. Thankfully, Dana is still making music today, and even represented Israel again in 2011 with the song 'Ding Dong', which unfortunately failed to make it to the final.
Finland's performance of 'Marry Me' by Krista Seigfrid at the 2013 contest featured both the singer and the backing dancers in bridesmaids outfits. The performance also featured a same-sex kiss with Krista and one of her female backing dancers. Turkish broadcasters TRT World pulled the broadcast in response to the kiss.
Perhaps the most famous example is the incredible Conchita Wurst, who first hit our Eurovision screens in 2014 when she won on behalf of Austria with anthem 'Rise Like A Phoenix'. Personally speaking, this song is perfect for expressing yourself and recreating yourself to be the person you truly are. The lyrics are very empowering for LGBTQ+ people, with lines like 'once I'm transformed // once I'm reborn' and 'you threw me down but // I'm going to fly' which resonate with many of us. Listening to this song still makes me cry with joy to this day as it shows no matter who you are, you can always 'rise from the ashes'- it should have been a James Bond song!
Conchita's performance received backlash and criticism from some countries, and from Russia in particular. Several conservative politicians voiced their displeasure when she won, and were in uproar when Russian contestant Polina Gagarina was interviewed by Conchita in the green room. This interaction sparked further criticism when Polina posted a video of herself hugging Conchita on social media.
Ireland's stage show of Ryan O'Shaughnessy's 'Together' in 2019 provided another memorable LGBTQ+ moment, when two male dancers portrayed a same-sex relationship. The live broadcast of the first semi-final was censored by China, who then terminated Mango TV's rights to air the show in the country. This performance reportedly went against Chinese guidelines, which prohibit 'abnormal sexual relationships and behaviours' due to the same-sex dancing.
There have been other countries who have cut Eurovision from their programming too. It was reported that LGBTQ+ visibility was a deciding factor when Hungary chose not to enter the 2020 contest, amidst a rise in anti-LGBTQ+ sentiment in the Hungarian government of Viktor Orbán, although no official reason was given.
However, none of the backlash for any of the performances listed above has put a stop to LGBTQ+ people and performances taking place. The band Måneskin performed their winning song 'Zitti e buoni' ('Shut up and Behave') last year, and co-founder Victoria recently came out as bisexual. Marija Šerifović, who won the contest in 2007 for Serbia with 'Molitva', which translates to 'euphoria' (my personal favourite Eurovision song), also came out as bisexual back in 2017. Several presenters of the contest have also been a part of the LGBTQ+ community, including Assi Azar, who hosted in Israel in 2019, and Nikkie de Jager, who hosted in the Netherlands in 2020 and 2021. De Jager was the first trans person to host the contest, and Mika, who is gay, will host the show in Italy this year.
So, while Eurovision isn't explicitly a gay extravaganza in a way that the RuPaul's Drag Race franchise is, there is no doubting that Eurovision is entrenched in LGBTQ+ culture and has featured a vast array of performances from people across the LGBTQ+ spectrum. It's message of inclusivity, which shines a light on performers from across the world in a joyous event, and its appeal to LGBTQ+ people is apparent. Eurovision is for everyone, so whether you're watching it or not, it will be an inclusive and diverse contest for (hopefully!) many more years to come.
Additional Resources:
https://www.france24.com/en/20150522-eurovision-gay-friendly-song-contest-lgbt-conchita-wurst
https://en.wikipedia.org/wiki/LGBT_visibility_in_the_Eurovision_Song_Contest
https://eurosong-contest.fandom.com/wiki/LGBT_visibility