Gardening Competition Champions! 🌱

For this year's gardening competition, we had 4 exciting categories for you to show off your best gardening projects and win £50. We had some amazing submissions, and we're thrilled to share with you this year's winners and runner ups! 
---
Best for Wildlife
Winner- Scunthorpe
First up, we have our 'Best for Wildlife' category winners in Scunthorpe, who have created a green haven for bees, insects, birds and other wildlife to thrive. Everyone works together to plant and prune their garden. They use a rota to share the tasks, and have created a lovely set of flower beds which are perfect for supporting insects and bees. Well done, you've won £50!

Runner up- Dennis, L
ondon
Our runner up is Dennis in London, who build his very own bird feeder with his woodwork group. "I really enjoy watching the birds, and it's great for all the residents to sit and watch all the different birds," said Dennis. Fantastic work, that's a very impressive birdfeeder!
---
Best Homegrown Food
Winner- South Shields 
Congratulations to the folks in South Shields, who won our Gardening Competition this year for 'Best Homegrown Food'. This category celebrates the gardens that grow lots of delicious fruits, vegetables or herbs, perfect for homemade meals!
The service has a large greenhouse so they can grow all sorts of goodies, including tomatoes, cucumbers, strawberries, and even cantaloupe melons- delicious! They've grown lots of flowers and herbs to, which attract new wildlife to their garden.

Runner up- Muzzy and Stephen, Burnley
Runner-ups Muzzy and Stephen in Burnley have worked hard to create some impressive vegetable beds. They designed the layout together, and grow a lot of tasty goodies such as potatoes, parsnip, peas, beetroot, and radish. "We enjoy growing our own veg because it's healthy and fresh," said Muzzy.
---
Best Sensory Garden
Winner- Sheffield
Congrats to the winners of the 'Best Sensory Garden' category for our Gardening Competition this year! This category is for those who have created a sensory haven, with lots of different smells, sights and sounds.
The folks over in Sheffield created a sensory wonderland, with a colourful ball pit, cool water feature, and tactile games on their fence. They also have some vegetables growing, and they used their creativity to grow plants in children's wellies- amazing!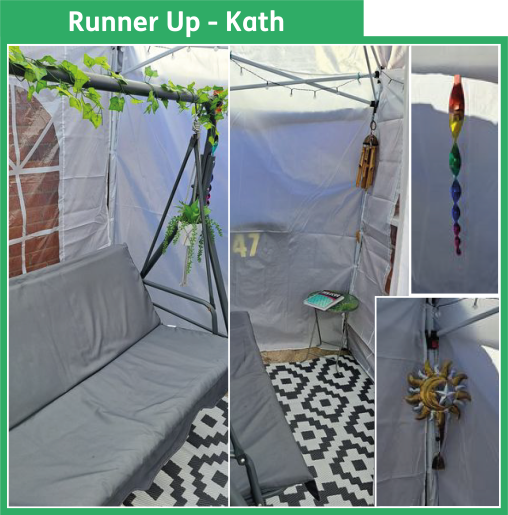 Runner up- Kath, Warri
ngton
Our runner-up was Kath in Warrington, who created her own little sanctuary with a gazebo and decorations. She used windchimes, fairy lights, flowers, and keeps some meditation books nearby to create her relaxing haven- sublime!
---
Best Service User Project
Winner- Carl, Manchester
All week we've been sharing the fantastic winners of our Gardening Competition, and our final category was 'Best Service User Project'. This category celebrates the people who support who have led their own project independently, and really put in the graft!
Congratulations to Carl in Manchester who impressed us with his creative use of second hand items, using tyres to make plant pots, and a ladder as plant stand. Carl worked on this completely independently, and tends to his garden every day. We love the handmade bench out of old wood!

Runner up- Steve, Scunthorpe
Our runner-up was Steve in Scunthorpe, who took initiative to improve his garden and jazz it up with some new plants, a garden gnome and a bee ornament. Well done Steve, it looks lovely!