Fiesta-Val in the West Midlands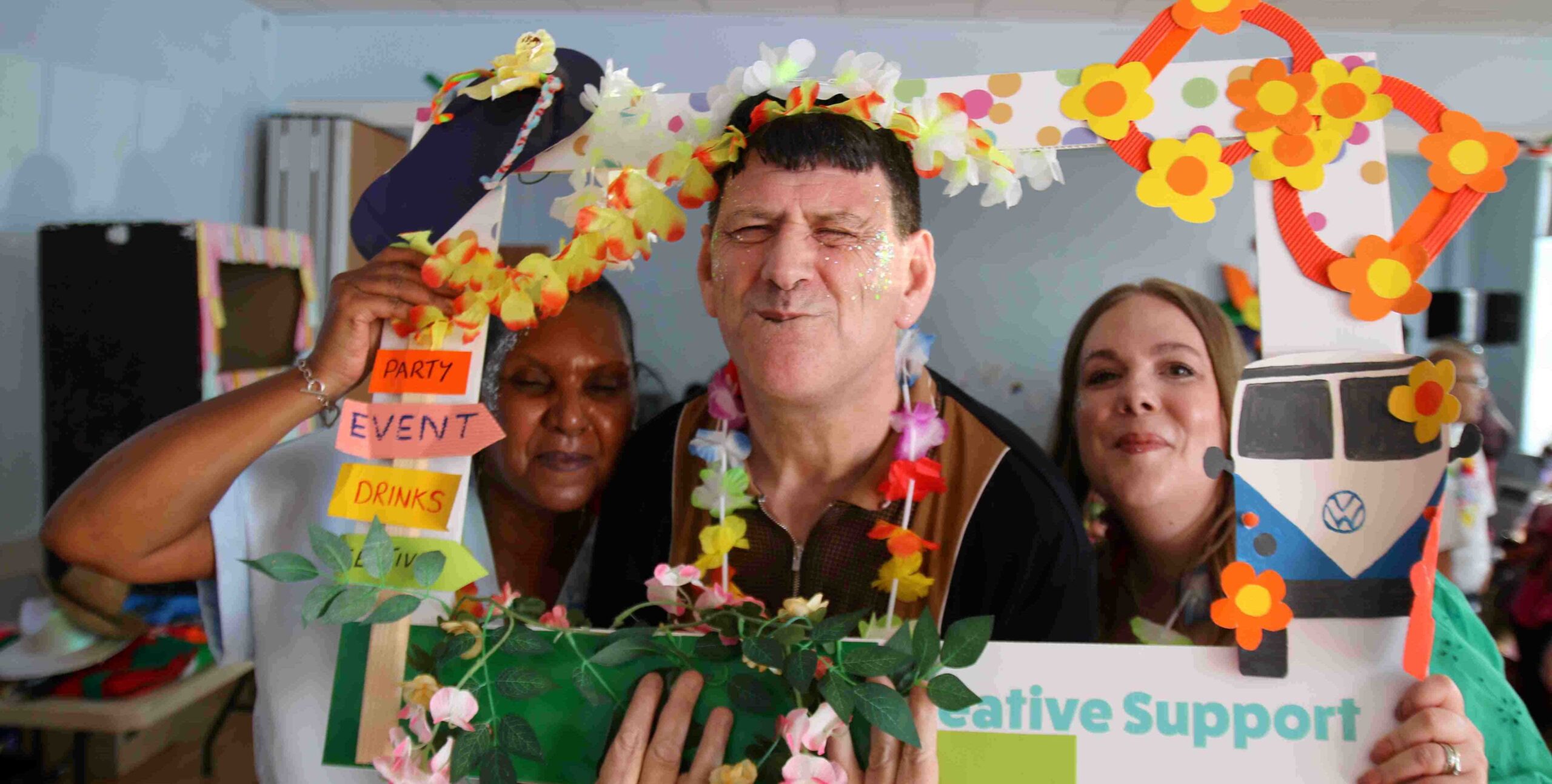 Yesterday, over 50 service users from Birmingham, Bromsgrove, Sandwell, Wolverhampton and Dudley came together for their Festival Fiesta. They used their 'Grand Fiesta' grant to throw Fiesta-Val, a day packed full of party games, music, laughter, and lots of glitter. Some of these photos were taken by our amazing volunteer photographer David, who we support in Birmingham. Fantastic work David!
---
Held in a local community centre, there were plenty of games and activity stations to keep everyone busy. People could enjoy games of bowling, giant jenga, tin can alley, football, flying disk golf and many other carnival games. To get festival ready everyone was given a colourful Hawaiian Garland, and with hair tinsel and glitter stations everyone could look fabulous and sparkling.
"All the decorations were made by the service users in arts and crafts sessions," said Ingrid, Team Leader. "We made bunting and paper chains. The Wolverhampton team sourced the venue, Katie was in charge of the budget, Holly was our buyer, and Sian booked the DJ." What a real team effort!
David from Birmingham (pictured above right) was also involved in helping with the festival. "I helped to set up the room and put up decorations," said David. "I wanted to get involved because I wanted to gain a bit of experience helping people because I enjoy doing that. I've volunteered at the British Red Cross since 2015, and I wanted to transfer some of my skills helping with the festival."
"I love these events, there's nothing better and it's the perfect way to spend the summer! I like seeing everyone and it's good for my social skills."
DJ Duncan kept everyone moving and grooving, playing classic party hits like ABBA, The Cha-Cha Slide and more. There was even a dance-off where Lewis, who we support in Dudley (pictured left), chose so many fantastic winners. Congrats to all the winners, you all had some killer dance moves! For those who had worked up an appetite from dancing, there was a burger van in the yard serving up tasty grilled food.
David was our voluntary photographer for the evening, snapping all the best moments and capturing the memories. "I like to take pictures of people having a good time and old fashioned architecture, so I usually use my camera phone when I go on day trips."
"As a first time professional photographer I feel like this has given me a lot of confidence and opened up a lot of doors for me," he said. "I feel like it will bring back loads of happy memories and it'll go down in history! I saw a lot of old faces who I haven't seen for ages and it brings that vibe of togetherness as some of these people I haven't seen since COVID."
This certainly was an event to go down in history! Thank you so much to David for helping us capture the memories. Check out David's photo gallery bellow:
And the rest of the photos here: