Our First Ever Engagement Workshop!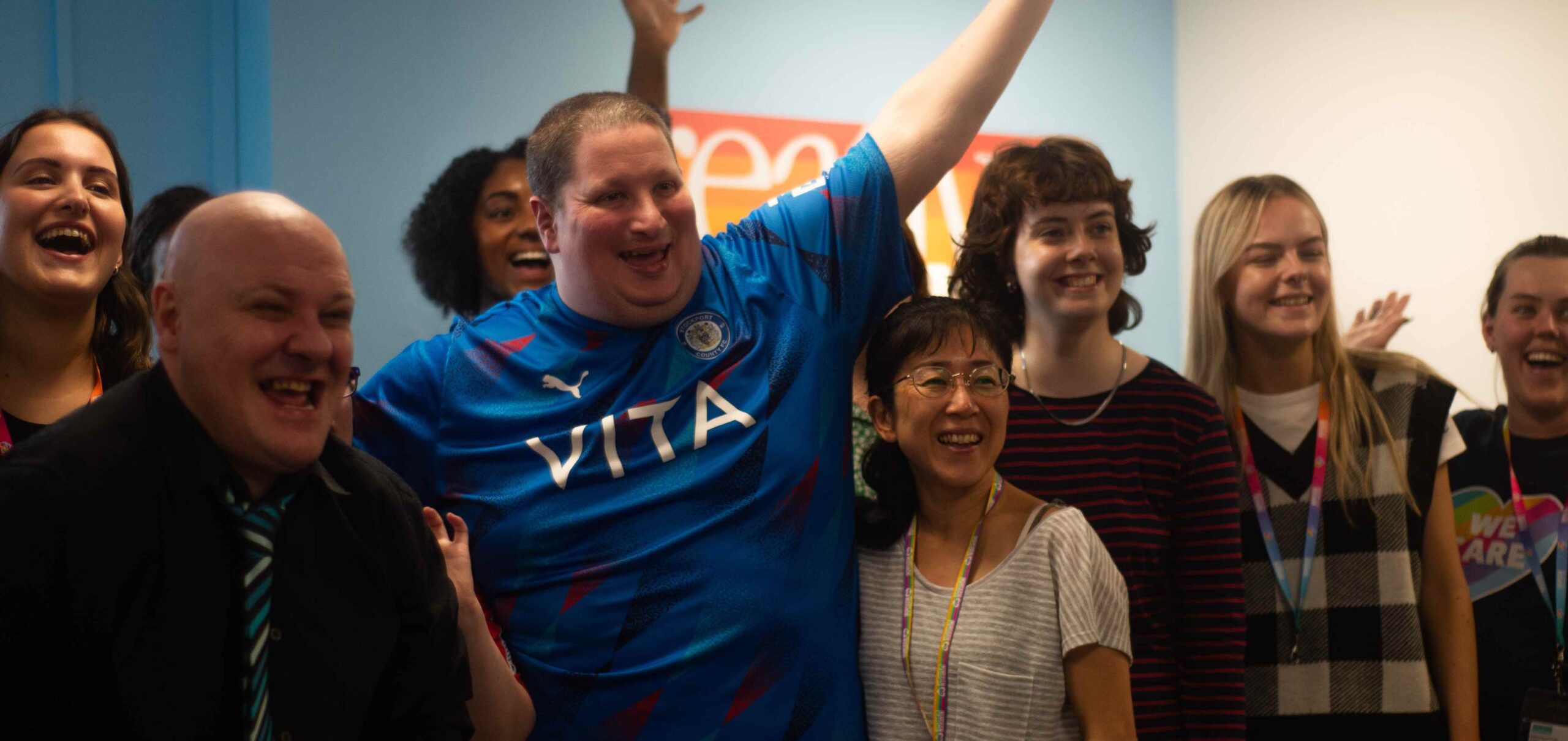 This week we had our first-ever Engagement Workshop at our Head Office, and what a success it was! The purpose of the day was to get involved with what our Marketing and Communications teams do and become artists, graphic designers, co-editors and storytellers! We had seven service users and seven members of staff from our services in Stockport, Manchester, Tameside, Warrington and all the way from the North East.
---
First up we had a welcome speech from Lydia Jones, Deputy Marketing Manager to introduce all the members of our team and what we do. We also had some lovely helpers from other departments, including Lois from the Online Systems team taking photos, Chloe from our Tendering team, Lauren from our South Manchester services, and Katie from our Social Value team.
There were lots of new faces in the room so we started with an icebreaker activity so everyone could introduce themselves, followed by a lunch buffet with sandwiches, wraps, cakes and fruit.
After lunch it was time for the workshops to begin! Everyone was placed into different groups where they would take turns on four different activities centred around what the Marketing and Communications Team do. In the Boardroom we had a feedback table with the opportunity to share ideas and suggestions for future Marketing campaigns and publications, and an art table for people to get creative. Check out some of the masterpieces in action below:
Next, people could head over to the Marketing and Communications space further down the office and have a go at designing their own magazine spread on the computer! Here are some of the fantastic spreads people made:
On our storytelling table, people could write an article to go in our next Creative Life magazine.
Jamie in Stockport wrote about attending a football game with his support staff: "The food was great and the football was greater. We beat them 5-0 and I was winding them up. Blue Army! Wrexham get battered everywhere they go. Stockport County is my life and I wouldn't have it any other way."
Jenny in Warrington wrote about some of her favourite concerts that she's been to: "I went to a Blue concert and I really enjoyed it. It was really nice and I had fun and my sister Sui enjoyed it too and she even brought me a T shirt. It had black and it had writing on the back and with their logo on it and it was a black colour too."
SM in Manchester wrote about the importance of self-love: "Self-love is the most important love and the greatest love of all. When you stop trying to impress the wrong people and trying to 'fit in' (not being yourself) you have a huge weight lifted off your shoulder."
Once the workshops were wrapped up, everyone gathered back in the Boardroom to talk about some of the successes of the day. Everyone received their own personalised certificate, such as Most Engaged Person, Best Feedback, Best Storyteller, and Best Artwork! Congrats to each and every person who came along to our workshop, you were fantastic to work with and we really value all of your incredible and ideas and input for our future campaigns.
"I thought it was a really good day, I've really enjoyed it and learnt a lot!" said Sven, who came from the North East.
"The South Manchester ladies had a great day, and I personally had a lovely time meeting everyone and facilitating some on-the-spot creativity!" said Lauren. "Get my name down for the next one."
"It was a wonderful day bursting with creativity," said Lydia. "From storytelling, to art, to even designing their very own magazine spread, everyone took part and came up some with some brilliant ideas and creative designs which will influence our future publications. It was wonderful to see so many people positively engage with our design and writing processes and end the day with some finished pieces of work which they created."
"There was something really special about watching people's ideas become a reality and watching their confidence grow throughout the day. We are looking forward to hosting more Engagement Workshops in the future. Keep an eye out for content from our fabulous co-editors and designers!"
We're already so excited for all the Engagement Workshops to come! Keep an eye on our website and social media for further announcements.
Photo gallery