BOOK NOW for our Cook-Along Zoom Session – Wednesday 18th November

To help us stay connected throughout Winter 2020, we're planning a series of online Zoom sessions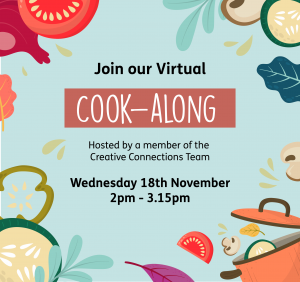 We're excited to invite the people we support to our Cook-Along Zoom session which will be held on:
Wednesday 18th November,   
2 pm – 3.15 pm
In this session we will be using store cupboard essentials to make a warming winter meal!
The session will be run by our Creative Connections team, a group of friendly Creative Support staff members who are dedicated to helping our service users stay connected.
These Zoom sessions will be running throughout the winter months and will be taking place every Wednesday, with different activities and things to get involved in each week.
We'd love for the people we support to join us for our Cook-Along session next week but there are limited number of places available so booking is essential.
How to book your place
1. To book a place either email be.involved@creativesupport.co.uk or call the marketing team on 0161 236 0829
2. Once a person's place is confirmed, we will send you more information on the recipe and instructions on how to join the Zoom session.
The next session will be held on Wednesday the 25th November where we will be getting creative with painting, details of this session will be released later next week.
Watch this Space…
As next week we are very excited to be launching our Winter Wellbeing campaign which aims to help our service users find the balance to stay happy and healthy, positively structure their time and stay connected over the winter months.
With the release of this campaign, we will be sending out the full winter Zoom Sessions timetable. These sessions will begin in December, with weekly Wednesday sessions and some Fridays sessions too.
For more information email be.involved@creativesupport.co.uk