30th Birthday Party in London!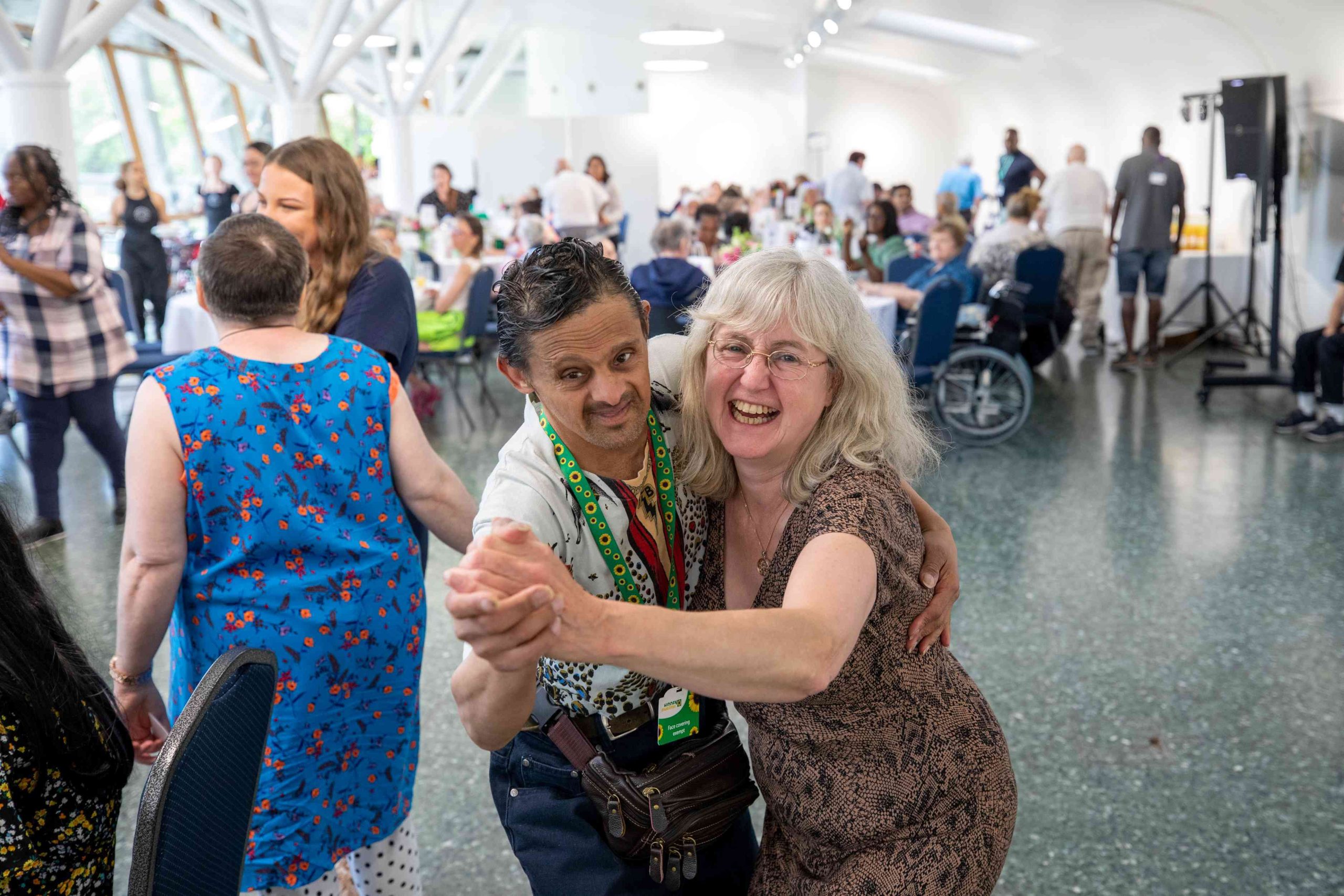 What an amazing day of celebrating we had in London yesterday! We had over 200 people from our London, Bedford, Oxford and Essex services come together to celebrate 30 years of Creative Support, filling the stunning Art Pavilion in Tower Hamlets. The event was organised by our fantastic London Team (Anna Coupland, Mahip Singh, Rachel Berlingieri and Sophiya Montaqim) alongside our Marketing Team (Sally Jellicoe and Ben Peasley).
"The sound of laughter and chatter, smiles on the faces of clients, Elvis dance moves, delectable food, the feelings of gratitude expressed by so many for being part of the Creative Support family… all this made the London 30th party into a day for the ages!" said Mahip, London Director.
The party kicked off with welcome speeches from our London Team, before being serenaded by the musical stylings of Theo, who performs at many of our extra care services. Theo's singing and piano skills soon had everyone up dancing to a bit of Abba and Elvis- who could resist singing along?!
After everyone had enjoyed their three-course meal, it was time to present our staff and service user awards. This was a moment certainly filled with smiles and laughter, as our CEO Anna Lunts handed everybody their trophy, certificate, and box of Hotel Chocolat chocs.
"It was a joyous day in the stunning Mile End Park, as the sun shone on our festivities!" said Anna Lunts. "Everyone looked beautiful and had made a real effort. It was fantastic to see what a diverse community we have as everyone came together from Camden, Barnet, Bromley, Wandsworth, Tower Hamlets, Essex and Bedford, as well as our newly opened service Hope House in Oxford."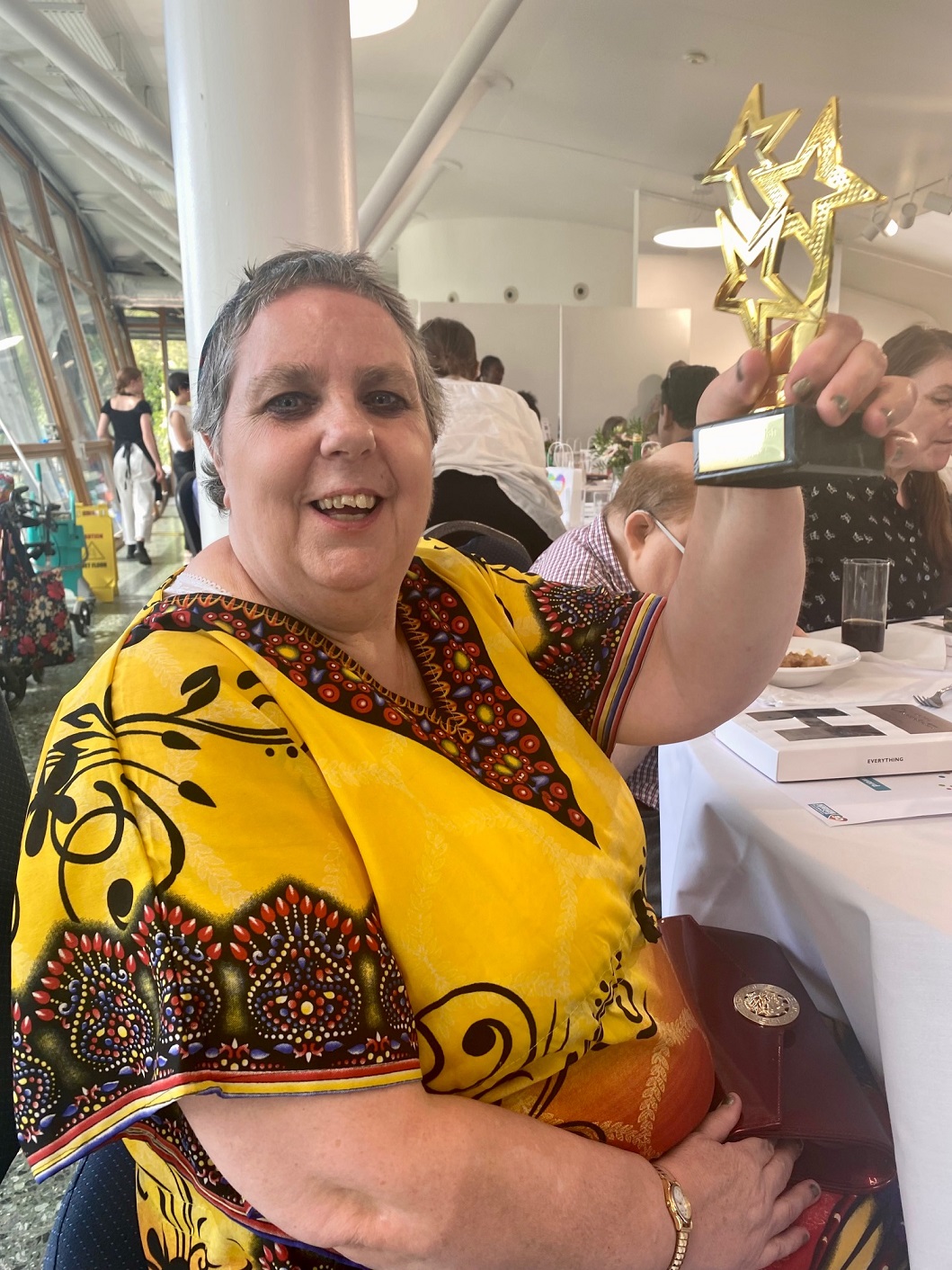 The awards, organised by our London Team, included Best Bingo Caller, Thoughtful Housemate, Most Creative, and Recycling Champion!
Maria was recognised for making a change in her local community, and received the Good Samaritan award for her efforts as a member of the Salvation Army. "I feel lovely to have won!" said Maria.
One of the 'Resident Comedian' awards was presented to Karen of Lingwood Court. "The walls of her service are adorned by the many wonderful jokes and poems. There is no one that leaves without being regaled by your awesome sense of humour. Thank you for bringing so much laughter and sunshine into our lives!" said Rachel.
Next, we of course had to recognise our fantastic, hardworking staff. We presented five Long Term Commitment Awards, for being the "quintessence of Creative Support, and for their exceptional dedication."
"I've worked as a support worker for over 14 years!" said Alex H, one of the winners. "I just love what I do."
Wendy S was also one of our winners, celebrating five years with Creative Support. "I feel like everyone is included here and there's such a big diversity of people, and that's what attracted me. I felt shocked [winning] as I wasn't expecting it- it was a total surprise! I don't do it to get something in return, so it was a wonderful surprise."
Next, we recognised Nichola H and Laura N for the 'Above & Beyond Award'. "I am very proud to call Nichola a colleague," said Mahip. "She is superwoman-like in her powers, and plays an invaluable role in Bromley and Wandsworth."
"I felt very overwhelmed [winning], I was not expecting it!" said Nichola. "It's been such a nice day being able to chill with staff and residents, I've had such a good time."
Laura was credited for "defying the laws of physics", visiting her services in Braintree, Thurrock, Camden and Barnet- sometimes in the same day! "I am so grateful to be working with someone as dedicated as her," said Mahip.
"I've worked with Creative Support for seven years," said Laura. "I like being able to work with fabulous people! I love the variety of my job as I manage a lot of different projects. I was very surprised [to receive the award], as it was all being organised in the office I work in and I had absolutely no idea."
After the awards, it was time for everyone's favourite part of the day- a good old-fashioned boogie! DJ Simon had the tunes flowing as everyone came together for a song and a dance, and even a few rounds of karaoke!
Christine, a person we support, was dancing and smiling as Simon spun the tunes. "I'm having a fantastic time, it's really nice," she said.
Donna was also enjoying a sing-along with her fiancé Miles. "I've enjoyed absolutely everything, it's been brilliant!" she said.
"My favourite part of the day was the awards ceremony, as I liked recognising staff for their commitment to Creative Support, especially as the last few years have been really tough," said Sophiya, Training Officer. "It was so nice to see people being recognised for their achievements in creativity and being independent."
"It's been a beautiful day, in a beautiful place with beautiful people!" said Joolz, a member of our Board of Trustees.
It certainly was Joolz, with more beautiful celebrations to come. We still have Birmingham, Blackpool and Manchester to go- we're officially halfway!
Check out our photo gallery below, and click on any picture to enlarge.