Welcome to our #CelebrateDiversity Learning Disability Month Newsletter!
As part of our yearly theme #CelebrateDiversiy, this month we have been celebrating people with Learning Disabilities! With the help of our fantastic colleagues and service users, we have included information, resources and stories, providing a platform for people to share their own unique experiences and perspectives of Learning Disabilities.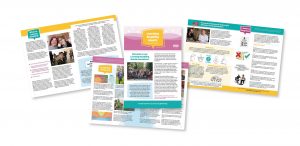 In this newsletter, as well as sharing positive news stories from our staff and service users, we also wanted to raise awareness of certain topics that people with learning disabilities are disproportionately affected by, such as mate crime and modern day slavery .By sharing information about the challenges that people with learning disabilities may face, we hope to help support and empower people in the Creative Support community and beyond.
We have also created an Easy Read version of this newsletter, so if you would like a copy, click here, or contact marketing@creativesupport.co.uk
Alongside our Learning Disability Month newsletter, we've been #CelebratingDiversity throughout June by sharing lots of articles and hosting 'social media takeovers' from service users across the country on our social media and website to help people better understand learning disabilities.
If you don't already, follow us on @crtvspprt to keep up to date with what's going on in the Creative Support community!'