Super-fit Amy scoops top award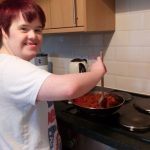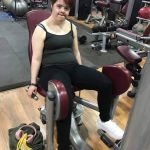 Creative Support tenant Amy has won first prize in the latest Service Users Awards.
Not only has Amy taken on a fitness regime which has helped her to lose three stone in weight but she has also learned a whole host of new skills.
Amy, who lives in a supported living service in Doncaster, joined Slimming World, started going to the gym and committed to a healthier lifestyle which has led to the impressive weight loss and a new-found confidence.
She has also signed up to life skills sessions and is now doing her own laundry, cooking meals, cleaning her flat and even restoring furniture.
Amy was living at home with her mum and dad until recently but her mum, Jane, says she loves her flat and is thriving in a new environment:
"They do lovely things, it's one party after another because, of course, living in this place it's always someone's birthday, so you've always got a party, or it's Christmas or Easter, or it's a summer fair. There is so much going on if you want to be part of it and if you don't – you don't have to. It caters for everybody. It's almost like a little village, it is a really supportive community."
The Service User Awards are held every month and recognise the amazing achievements of Creative Support service users and tenants from across the country in the categories of Community Champion, Personal Development and Healthy Living. This round of awards was judged by a panel of service users from Rose Buddies in Wokingham.