Proud to Celebrate Pride
Throughout August we've been asking you to tell us about how you celebrate your Pride. We've collected all of your wonderful responses and turned them into 4 fabulous posters that you can hang at your service to celebrate Pride all year round!
This was open to everyone of every sexuality and gender, including family, friends, and allies of LGBTQ+ people. Raising up the voices of LGBTQ+ people is so important, and supporting them and raising awareness is a team effort. Thank you so much to everyone who answered our 4 questions, we loved reading your replies and hugely appreciate you taking the time to share your different viewpoints.
As we received such a great response, we unfortunately couldn't fit all of them on, so we wanted to include them all here so that no voice is left unheard.
---
Week 1: What does Pride mean to you?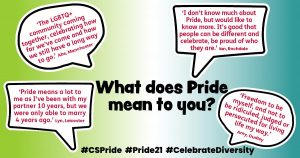 Chloe in Manchester- 'Pride to me is all about community spirit and people coming together to celebrate and commemorate our beautiful LGBTQ+ family and friends. It also gives visibility to people of all sexualities and genders, and is an opportunity for us all to learn about, understand, and appreciate one another better.'
Jennifer in Liverpool- 'All sexualities and genders. Getting people to notice the gay community. I'm bisexual so it needs to be out more, and for people not to be scared.'
Ray in Manchester- "I grew up in the seventies and early eighties when it was illegal to be gay in Britain, you could actually be arrested and legitimately discriminated against by employers. I came out in the year that Clause 28 was introduced by the then Prime Minister Margaret Thatcher. It was a time when HIV and AIDS terrorised and victimised the gay community and we suffered high levels of discrimination and hatred. Pride to me is a statement of strength, determination and a fight for equality. Most people see it now as a party without understanding the real meaning behind it…. The first Pride was a riot – literally – and we still have a fight for equality on our hands. There is still discrimination in this country, but in other countries gay people are criminalised, and persecuted just for being who we are. It is not acceptable. Pride is a way to show that we are not going away. To show that we are strong together, and to share our love."
Paula in Liverpool "I get a buzz and I can let myself go and I don't have to hide. Sometimes when you've got a partner you want to show them off but you can't, but when you go to gay bars you feel relaxed"
Lyn in Leicester "Pride means a lot to me as I've been with my partner 10 years, but we were only able to marry 4 years ago.
---
Week 2: What is your favourite Pride memory?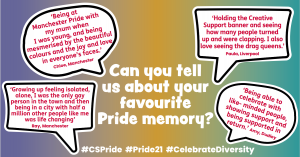 Abs in Manchester 'Going to the Manchester Pride Parade for the first time with my best friend and the entire atmosphere of love and community. I felt safe and like I'd finally come home.'
Jennifer in Liverpool- "A few years ago I took my mum around Pride and the gay scene, she really enjoyed it, but she thought the music was too loud as she's in her fifties! My friends are straight and they said they prefer the gay scene."
Lyn in Leicester- "My first time at Pride in Leicester was very eye-opening; to be able to walk through the town and express yourself as a couple."
---
Week 3: How has Pride changed over the years, in your experience?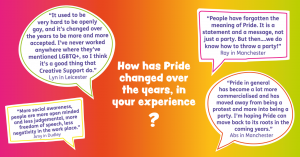 Chloe in Manchester- 'Pride has become bigger and bigger as more people come together to celebrate, and there have been significantly less beads chucked off parade floats than when I was a kid!'
---
Week 4: How do you share your Pride?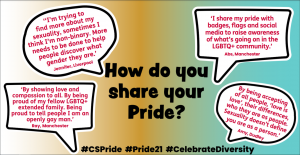 Chloe in Manchester- 'I try to keep myself educated on issues and events going on related to the LGBTQ+ community, both in the UK and around the world. We have come so far as a community, but there is still a long way to go, and we can only get stronger by raising up the voices of people who haven't had as much representation and by listening to others.'
Paula in Liverpool "I love attending Pride and having my face painted!"
Lyn in Leicester- "I go to Pride every year, and one year I went to Pride in Benidorm which was a really big thing. We also go to gay pubs in Leicester so we can celebrate who we are and what we can be, and how we can show that. We don't like to be too overt about it out of respect and the way we grew up."
---