Paul celebrates 40th with £1,000 donation to Creative Space Centre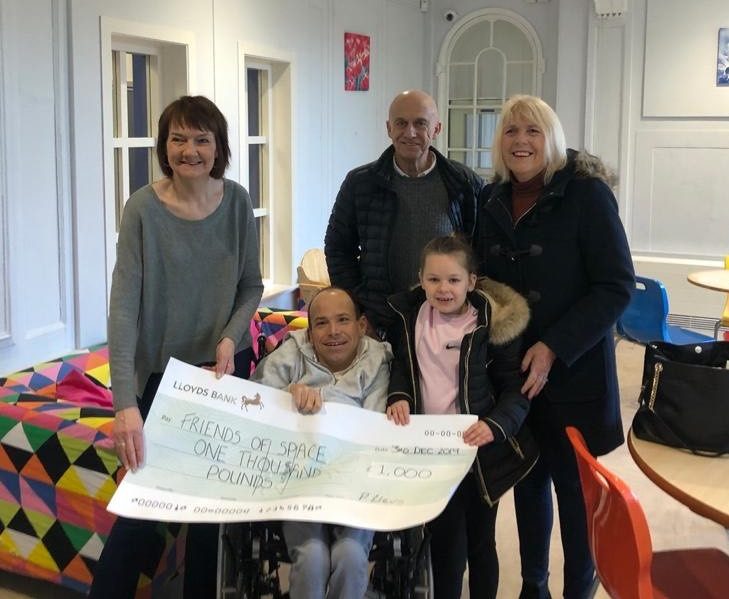 Paul Llevo has celebrated the big 4-0 by making a big donation to the Creative Space Centre.
Paul's family organised a birthday bash for him at Bamber Bridge Football Club with 150 guests, and he decided, rather than presents, he wanted donations to the multi-sensory centre, for his special birthday.
Paul's Mum, Diane, organised the party with her two daughters, Vicky and Amy. They booked a live band, a DJ and a photo booth.
"Paul thoroughly enjoyed his party. There were lots of people there. He was surrounded by friends and family and he loved it," said Diane.
"As a family we wanted to make a gesture to a local charity. We talked to Paul about it and there was nothing he wanted or needed so we agreed to make a donation instead.
"He first went to the Space Centre as a child and now goes every month. He really enjoys the sensory equipment – the lights and music and he enjoys watching films. It's a regular, relaxing experience for him to go there," added Diane.
Diane, her husband James, and their granddaughter Jessica went along with Paul to hand over the cheque to staff at The Creative Space Centre, in Preston, last month.
Centre Manager, Jane Robinson said, "We are so grateful to Paul and his family for their wonderful generosity. To show our appreciation we've invited them to the Space Centre Summer Ball as our guests.
"We look forward to seeing Paul again on his regular visit later this month. It is always very rewarding to see how much he gets from the multi-sensory environment and how much he enjoys coming here," Jane added.
Caption
Creative Space Centre Fundraiser, Andrea Baker, pictured with Paul, his parents James and Diane and their granddaughter, Jessica.