News Release – Andy Burnham visits Creative Support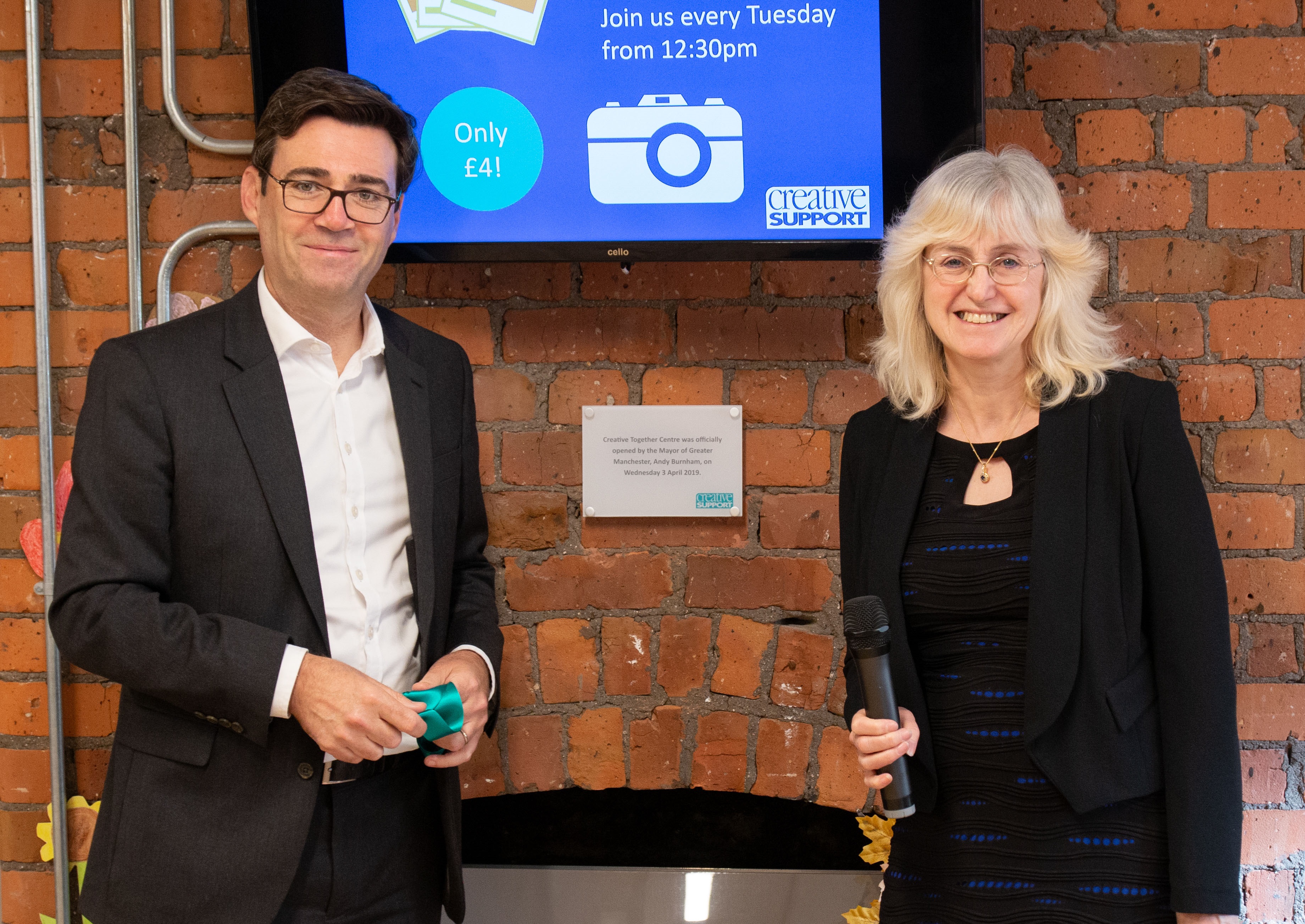 Andy Burnham says Creative Support innovation should set the standard for care across Greater Manchester
Friday 5th April 2019
The Mayor of Greater Manchester Andy Burnham has praised Creative Support for their pioneering approach to supporting people with care needs.
Speaking during the official launch of the new Creative Together Centre on Swan Street, home to Creative Support's long standing day opportunity Breakthrough, Andy told an audience of members, staff and guests that the ethos of Creative Together was one he shared for the whole of Greater Manchester:
"The way in which you're allowing people to be themselves, to express themselves and do what they want to do, it seems to me that's what this space is all about. It's what we're all about in Manchester because sometimes, the way things are, we make people fit in boxes, make them tick forms, it's almost like services decide what you've got to be and that's not the way to treat people. What we've got to do is come at it the other way and let everybody be the person they want to be in a space that is theirs, and that's the feeling that you get the minute you walk through the door here."
"I want Greater Manchester to lead the way in pioneering a different way of supporting people – not doing to people, doing with people. The whole emphasis here on co-production seems to me absolutely right and something that we should be pointing to say look, this is how it should be, building up from this basis. Put people at the heart of everything we do, listen to their voices in the way that we design things and that's what it seems to me you're all about."
Allen, a member at the centre, said: "It makes me feel welcome here, knowing that I can share a bit of banter with a few of the other people about different issues and how we get on in the world… I'm not compared with other people, I'm taken as myself."
During his visit Andy met service users, guests and staff and complimented the design and décor of the newly refurbished building which includes a music studio, holistic therapy room and training room along with a café and large communal space.
"It's a massive honour to be with everybody today," he said. "I think sometimes we don't value creativity, music and art enough, to be honest. I think they're the things that make life worth living. I think we have to do much more to help people enjoy the best things in life and get the most out of life; to be independent and have a voice."
Andy also recognised the work of volunteers at the Creative Together Centre. Unveiling a commemorative plaque, he said:
"Thank you to all the volunteers as well because, obviously, without you it wouldn't be what it is and I know people put a lot of work in to make this the place it is. So, it is genuinely an honour to be asked to do this."
Anna Lunts, CEO of Creative Support said: "We were delighted that Andy was able to spare time in his busy schedule to officially open our Creative Together Centre. It's so reassuring that the Mayor of Greater Manchester understands the work we do and the innovative ways we use to help people to live the best lives they can. We are heartened that he sees our work as the basis for a model of best practice across the city region."
ENDS
Media Enquiries
Sally Wheatman
Communications Officer
Telephone: 0161 236 0829
Email: Sally.wheatman@creativesupport.co.uk
Notes to Editors:
Creative Support Limited is a Registered Society under the Co-operative and Community Benefit Societies Act 2014, providing a range of person-centered services for people with mental health needs, learning disabilities and other support needs. Founded in 1990, the charity has gained an excellent reputation for its dynamic approach, strong values, and commitment to quality. Creative Support is recognised as one of the largest national not-for-profit providers of prevention and care services in the country working in 69 local authority areas, employing 5,600 staff and supporting 7,000 people with support and care needs.The charity aims to support service users by promoting their social inclusion, developing their independence and confidence, and promoting their physical, mental, and emotional wellbeing.
For further details please visit: www.creativesupport.co.uk.