New Release – Support workers turn their hand to gardening to create a sensory success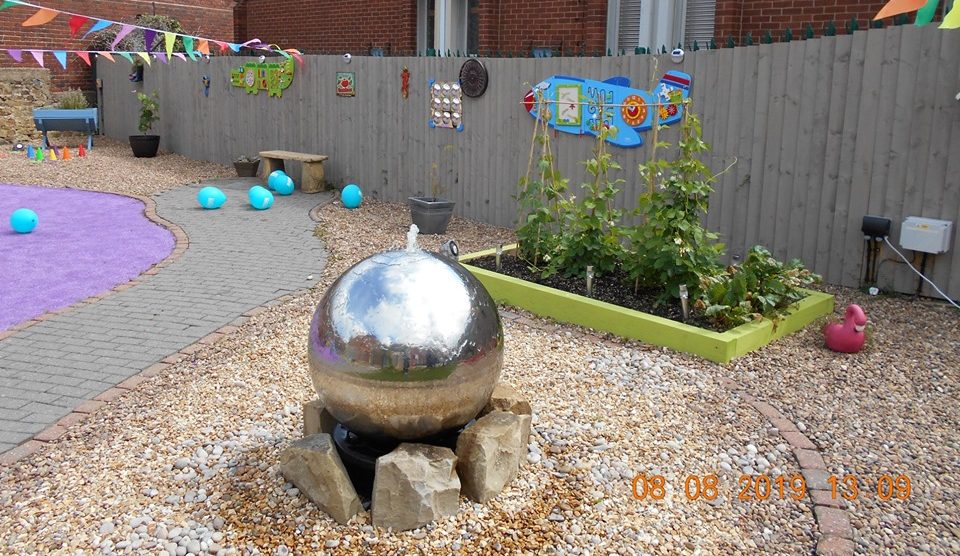 Creative Support staff in Sheffield have designed and built an autism friendly sensory garden.
Staff liaised with residents about what they would like to include in the garden at Mansfield View and then designed and planned the space. The newly refurbished garden includes astro turf, sensory games, brightly painted planters and raised beds, edible plants and a water feature. Staff carried out all the work themselves except for installing the water feature.
Last week (Thursday 8th August) the garden was officially opened during a sunny afternoon party attended by service users, commissioners and Creative Support staff.
Speaking during the event Diane Ewen, Creative Support's Area Manager for North Lincolnshire and South Yorkshire said:
"Thank you to our service users and Mansfield View staff for welcoming us along today to enjoy their newly improved sensory garden.
It is a pleasure to see the beautiful space outside peoples' homes here at Mansfield View looking so well. The garden would not have been possible without the hard work of the local team.
Creative Support are very proud to have been involved at the service for nearly two years and initiatives such as this are an example of the care and the excellent services provided here. Thanks to the social work and commissioning teams for your dedication to partnership working to ensure a high quality of life is supported."
ENDS
Media Enquiries
Sally Wheatman
Communications Officer
Telephone 0161 236 0829
Email: Sally.wheatman@creativesupport.co.uk
Notes to Editors:
Creative Support Limited is a Registered Society under the Co-operative and Community Benefit Societies Act 2014, providing a range of person-centered services for people with mental health needs, learning disabilities and other support needs. Founded in 1990, Creative Support has gained an excellent reputation for its dynamic approach, strong values, and commitment to quality. The organisation is one of the largest national not-for-profit providers of prevention and care services in the country, working in 70 local authority areas, employing 5,600 staff and supporting 7,000 people.