Moving on Up (and Out!)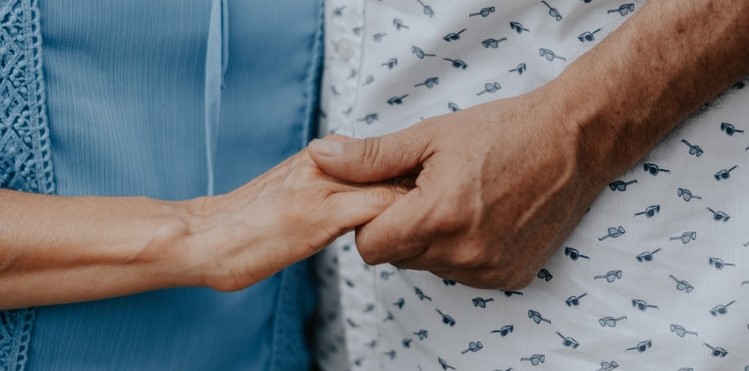 Back in early 2020, married couple Roy and Christine in Doncaster were living separately in private rented housing. They both felt isolated and were struggling with life's pressures. Roy was referred to Creative Support in January and was supported by Joy who helped him find a solid foundation again.
Joy firstly helped him get access to food vouchers. Roy loved having his grandchildren visit but it had become unaffordable with the cost of paying rent on his own. These food vouchers made the world of difference and meant that Roy had lots of food in ready for his grandchildren when they visited at the weekends. This included essentials such as chocolate biscuits and tins of sausage and beans!
After seeing Roy getting support and how helpful it had already been, Christine asked if she could be supported too and Joy agreed that she would benefit from it. Christine was also living in private rented accommodation on her own and was struggling, so Joy called up and referred her to Creative Support. By the end of March, Christine was being supported by Paula and both her and Joy worked together to help the pair live together once more. They wanted to see Christine and Roy live as a married family unit once more and knew how much it would help them if they were in the same place supporting each other.
While Joy and Paula worked to find them accommodation, they also helped Christine apply for funds from Doncaster Macmillan who granted her an award to buy new clothes. The pair also helped Roy apply for PIP, Attendance Allowance, and more, so that they could be even better supported. Their claims were successful and now Roy has a mobility car which he said is "fantastic"!
After applying to the housing association, Roy and Christine were offered new housing together, even during the pandemic! They have since moved into their new home and enjoy being with each other and have made lots of new friends. They regularly do quizzes in the communal areas and enjoy their freedom to see people when they like. Moving into their new home has really helped their mental wellbeing and they said that they're both so much happier now.
Once Roy and Christine had been supported into their new home, Joy and Paula also helped them apply for blue badges and set up their vaccination appointments so that they could keep safe from COVID-19.
The married couple are no longer supported by Joy and Paula but know that if they ever need help they're only a phone call away.
Christine said "I don't know what we would have done without Joy and Paula. They were brilliant and now I've moved into our new home I've learned lots of new things. Joy and Paula no longer support us as they've helped with the things we needed help with. They recently helped us get our blue badges, organise our vaccinations, and given us a great base of support that we can use going forwards."
"My grandson recently came to visit us as he was in the navy and we hadn't seen him in over eight months. He said how great it was to see me and Roy live together again."
Joy and Paula were awarded an Achieve Q Gold Award for their hard work and reuniting the couple. They said: "We were humbled to be nominated for the award and it meant so much that we were nominated by a service user. We didn't do it for any award, we are absolutely dedicated to supporting our service users and enabling them to move forwards independently. It's all part of the job and it's what we believe in; creating positive outcomes for people and having empathy with everyone's situations."
Joy and Paula's Operation's Manager Naomi said: "Joy and Paula are very passionate and hardworking, they strive to empower the people they support to achieve a good quality of life. The support they have provided Roy and Christine has enhanced their life immensely. The support has enabled them to become active members of their community and have greater independence and fulfilment within their lives."