Introducing our Dignity in Care Month Newsletters!

As part of our yearly theme #CelebrateDiversity, we have been focusing on Dignity in Care this month. Dignity is a huge part of what we do at Creative Support and we've enjoyed speaking with some of the older people we support about what dignity means to them, and how our staff work to create dignified services.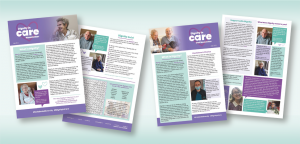 Dignity is defined as a human right that everyone deserves to be treated with. It is about respecting, listening, and helping people to enrich their lives without prejudice. Dignity in Care is all about this, but more specifically means the kind of care which supports and promotes a person's self-respect no matter what.
This month we have not one, but two newsletters for our staff and service user to enjoy!
---
If you would like to get involved by sharing what dignity means to you, or ways that you create a dignified space, please get in touch via marketing@creativesupport.co.uk as we would love to hear from you.
---
---