In her blog this week our CEO celebrates a CQC 'Outstanding' rating for Creative Support's Doncaster services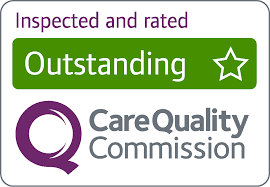 It's not often the Care Quality Commission rates a service 'outstanding' in all areas. In fact there are just eight learning disability services in the country to be rated 'outstanding' across the board and this week we've had the fantastic news that our Doncaster service is one of them.
The CQC asks if a service is safe, effective, caring, responsive and well-led and the inspector found it to be 'outstanding' in all those categories. He said the service, providing support for 77 people with a learning disability, autism and mental health needs, clearly demonstrated how it consistently met the characteristics of providing outstanding care.
The report says: "People were at the heart of the service and the registered managers and staff were fully committed to providing high-quality, person-centred care. Staff were clearly committed and compassionate, striving to provide outstanding care, with excellent outcomes at all times. People were treated with exceptional kindness, dignity and respect and received their care and support from a highly motivated and dedicated staff team."
It is a great affirmation of our culture and values at Creative Support, to read such a positive statement about one of our services in a CQC report.
As one support worker said: "I've worked all my life in all sorts of roles. I've managed a pub, run a café, but this is the best job I've ever had. I love coming to work. I don't really want to retire."
Tenants living in this service have an excellent quality of life and reach their full potential. They are supported to express themselves and pursue hobbies and activities or continue their education or go to work.
One parent was so impressed she wanted three of her adult children to live in one of the supported housing schemes that make up this service:
"They live a life that if they lived with parents they would never have. However good a parent you are, you wouldn't do what the staff here do. Because the staff here have this kind of friendship – yes, they're very professional, don't get me wrong, they're very professional, but they're more like friends than carers."
The report reflects the genuinely open culture in the service where any safety concerns raised are valued and regarded as integral to learning and improvement. Parents pay testament to that, too, "If there was ever a problem, I know that the manager or the staff will immediately inform me, and we'd discuss it then and it'd be a team effort, we'd work together to see what could be improved. I can always rest assured, even when we're on holiday, I just know that they're safe, and that the staff would deal with any emergency in a professional way."
The CQC Inspector saw how one of our male tenants had shown an interest in wearing women's clothes and the staff supported him to go shopping and express his own unique style – something he had never been able to do in the past. The inspector also noted how thrilled he was to feature in our magazine Creative Life. 
Creative Support's outstanding approach to collaborative working was also recognised, "The provider and registered managers had developed many excellent relationships with social care professionals, NHS staff, GPs and the voluntary sector," the report says.
I am absolutely thrilled that the hard-work, dedication and professionalism of our area manager, service managers and support workers has been acknowledged by the CQC. I'm delighted for us as an organisation but most of all I'm delighted that the people we support have all the benefits of living in homes that are part of an outstanding service.
As one of the Doncaster parents said: "They do lovely things, it's one party after another because, of course, living in this place it's always someone's birthday, so you've always got a party, or it's Christmas or Easter, or it's a summer fair. There is so much going on if you want to be part of it, and if you don't – you don't have to. It caters for everybody."
An excellent service like this doesn't just happen it comes about through hard work dedication and a passionate pursuit of quality.
The inspector noted "An exceptionally motivated and enthusiastic staff team was in place, led by a highly motivated management team that worked together to follow best practice and achieve very positive outcomes for people."
---
---
CQC Doncaster Personalised Services Report (easy read version)
---