How to Have Dementia-Friendly Conversations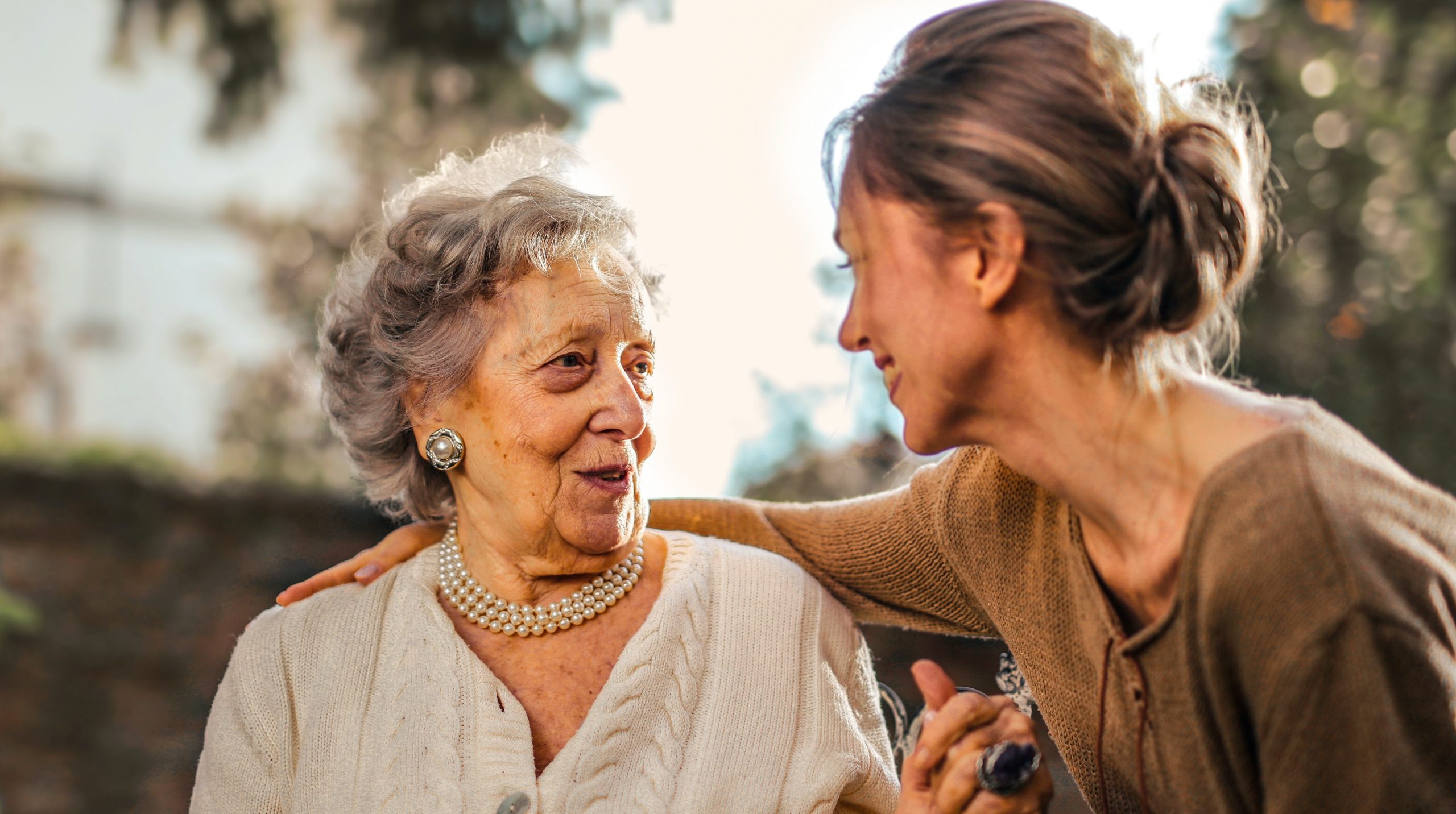 When someone you know has a dementia or Alzheimer's diagnosis, you might worry about having conversations with them for a number of reasons. This could be because you fear upsetting them, or you're unsure about how to remind them about something. Whatever the reason, we know this can be unfamiliar territory for many.
We spoke to our trained and specialist staff across the country who support people with dementia, and Alzheimer's more specifically. They have spoken to us about what they do at their service and shared their words of wisdom to help take some of the worry away from having great conversations and supporting people with a diagnosis.
The staff at Wilshaw House have been supporting people with dementia for many years, and said that one of the first things to remember is that "people who have dementia or Alzheimer's specifically, are people, not their condition. They are human beings that deserve to be treated how you would want to be treated."
Wilshaw House staff also highlighted that "what works really well for some won't be as good for others, as everyone is different and dementia can affect everyone differently." Kat, a Senior Support Worker at St George's Court, also reflected on this and said: "A lot of people think that having Alzheimer's or dementia is simply just memory loss, but it's so much more than this. Some people can have hallucinations, and other people can become non-verbal, so you have to support everyone as an individual, not just as someone with dementia."
---
Removing distractions and keeping focus
Wilshaw House also said that when having a conversation, there are certain things you should be aware of to make it a positive experience for the person. "Something we try to focus on is offering positive visual reactions whilst having a conversation with someone we support. Body language is incredibly important and visual, so they will pick up on your cues from how you sit or stand or react to what they say. Make sure the TV is turned down and the lights are on so your face is easily visible and there aren't too many distractions around you. Having too many distractions makes it harder for them to focus on you and understand you. Some people also have fragile spatial awareness, so try and keep the area around them clear."
---
Asking questions
Asking questions is part of what keeps conversations flowing, but for people with dementia it can make them confused. Wilshaw House staff said that asking too many open-ended questions can make it difficult for people to understand, so it's best to stick with short and simple sentences when possible.
In the case that the person with dementia or Alzheimer's is non-verbal, the people at Wilshaw House have said that singing songs can be really helpful. "Sometimes we'll sing people a song that has meaning to them, or will help them to understand what we're trying to tell them. Music, especially when it's familiar, can be a great way to connect with people."
---
Keeping it familiar
Keeping things familiar in the environment is also a way to make people feel more comfortable. At Wilshaw House, they try and keep the fridge stocked with familiar foods they know the person will like or recognise. They also try and stick to a routine that the person enjoys, such as getting up or eating at certain times to avoid any confusion.
Jean, a Team Leader at Northampton Place, agreed with the importance of familiarity. At their service they provide home care for people with dementia, which she explains is "really beneficial because they know that they're in a safe and familiar environment."
---
Being person-centred
Picking up on what people like to do or are interested in and tailoring activities to them specifically is a great way to provide person-centred support. There are some things that are advised against when supporting people with dementia, such as grounding people in the date and time or trying to tell them that they're incorrect about what day or year it is. However, some people might actually want to be reminded as it's something important to them, as is the case with a lady Jean supports. "We have a big calendar on the main table that we cross off every morning so that she can check the date for herself, which makes her happy. It's really all about listening to their wants and paying attention to what is important to them so that we can make it the best experience possible."
---
Gentle prompting
Jean went on to say that when having conversations, "a big thing would be reminding the people we support about things gently and prompting their memory, but not saying they are wrong. The gentle approach is best and we always make sure to provide support that is the best for them."
A piece of advice Jean had for people when having conversations with someone with dementia is to "go along with the conversation as normal, listen and pay attention without dismissing them. Instead of saying 'no' or confronting them, just let the conversation flow and maybe gently remind them about something related to what they're saying, just like in any conversation."
Kat from St George's Court expanded on this and said that in her experience, it's "almost like roleplaying and going along with it. Don't say something is not real, such as when they're experiencing a hallucination, as it can upset them." She went on to say that when chatting with someone, try and use their name when possible. "This has been really helpful for our residents as they have spent their whole lives hearing their name, and because usually when someone uses their name, it's because it's someone they know and feel comfortable with. It means that they can recognise you and they know they can trust you. Try not to use affectations like 'love' or 'darling' and replace that with their name instead."
---
Doing activities
Conversations aren't always just sat down talking, sometimes the best chats are had while doing something such as gardening or puzzles.
The staff at Wilshaw house said that when doing activities, try and make them something that the person has expressed an interest in, or is something they're already passionate about. "We encourage people to follow their passions as it not only helps their mental wellbeing, but it is something good for them to focus on and can help improve their experience."
Kat at St George's Court said that when doing activities with people you should make it related to what the person has expressed an interest in. For example, when Kat was supporting a lady who was feeling down over the Christmas holidays, she went and found an old tree in the attic and they spent the afternoon decorating it. "The person I was supporting had such a good time getting involved in choosing the decorations and putting them on the tree, and it was because it's such a familiar act. I also thought it would be a good activity as one of the person's interests was gardening and would be something that she knows. It's all about being person-centred."
In terms of reminding people about events or things that have happened, Kat said creating memory boxes or looking through old photographs can be a good activity. "During lockdown, we ran the 'Company for Carers' initiative, created by Quality Operations Manager James Parker and the team because we worried about people becoming isolated and losing their social time. With this scheme, we'll sometimes spend an afternoon going through pictures of the person and their families and friends, which they really enjoy and can provide gentle reminders about lovely things they have done."
James explained that "the Company for Carers scheme uses downtime in the day to visit service users on a purely social basis, without the added pressure of delivering care. We do things such as chatting with people over a cup of tea, supporting people on walks, doing jigsaw puzzles, competing with each other watching TV game shows and more. We have one service user with dementia who is no longer able to read, so we use the Company with Carers visit to read passages from the bible of her choice to her. The benefits of the scheme have been extensive and significant. We have seen much better engagement in support from people. Where we can, we try to target some of the visits to individuals with specific needs. For example, where someone is prone to getting lost in the service due to their dementia, we often take them for walks around the building and encourage them to show us their way back, to build their muscle memory and familiarise them with the layout. "
---
Modern methods of communication
Jean in Berkshire said that "during lockdown, [the service] worried a lot about people being isolated, so the staff and I helped families to set up FaceTimes and phone calls with people's families and friends. We supported them to dial the numbers and remind them about the time before leaving the room, so that we could enable them to keep connected with their loved ones whilst maintaining their independence." Nowadays, we can communicate using technology, but for people with dementia this might be tricky. Helping someone to dial the phone or set up a Zoom or a FaceTime will give them this connection without diminishing their independence and can make a world of difference to people who otherwise wouldn't be able to speak to their loved ones.
---
Being respectful
The staff members we spoke to all said that it's important to remember that when chatting with somebody who has a diagnosis of dementia that no matter what, they deserve to be respected and listened to. Things might feel different, and they might change over time, but they are still someone who you know and love. If you would like further support or guidance related to this topic, please click here to read more guidance from the Alzheimer's Society.