Harold's charity memoir tops £1,000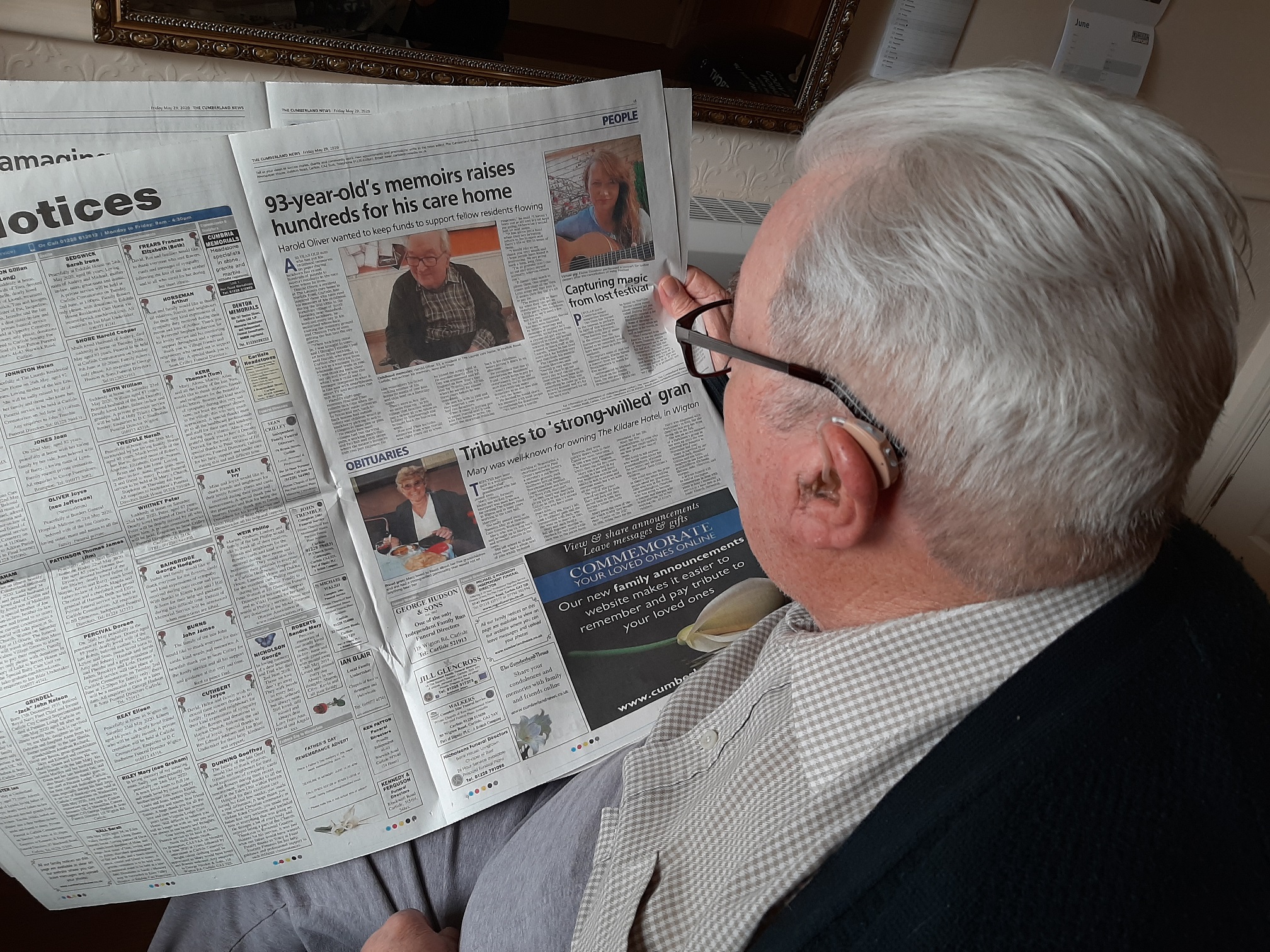 93-year-old Harold Oliver has raised over £1,000 after writing his memoir and selling it to neighbours and friends.
Harold, who lives at The Laurels Residential Care Home in Carlisle began writing down his childhood memories to keep busy when the Coronavirus restrictions began.
He is very active and used to going out so was keen to find something to keep him busy once his daily outings had to stop.
"I can't sit doing nothing for long," said Harold. "So I got thinking about my childhood. It took a couple of weeks to write. I'd think about it in the morning and then jot it down in the afternoon."
Harold, his daughter and The Laurels staff began by hand delivering letters to nearby residents asking if they would like to make a small donation in return for a copy of Harold's memoir. He soon smashed his initial target of £200.
Since then Harold's fundraising efforts have featured in the local newspaper The Carlisle News and Star and he's set up an online giving page.
Now he has raised more than £1,000 which will go to the residents' fund to help pay for entertainers, day trips and activities for the 21 residents who live at The Laurels on Norfolk Road.
The Laurels is run by national not-for-profit care provider Creative Support and manager Sharon Morrows said: "Harold is very active and busy. He likes to go out every day and the current restrictions have been quite difficult for him. This was something he came up with entirely himself and we would love for him to be recognised for all his hard work."
Titled 'Now and Then,' Harold's memoir reflects on a time when the greengrocer made deliveries by horse and cart, back-to-back houses had outside toilets and a popular meal was cowheel and shin beef.
If you would like a copy and make a contribution to the fund please follow the link below.
https://chuffed.org/project/help-harold-raise-300-for-the-laurels-care-home-carlisle
Media Contact:
Sally Wheatman