Grayson Perry choses Creative Support artist for national exhibition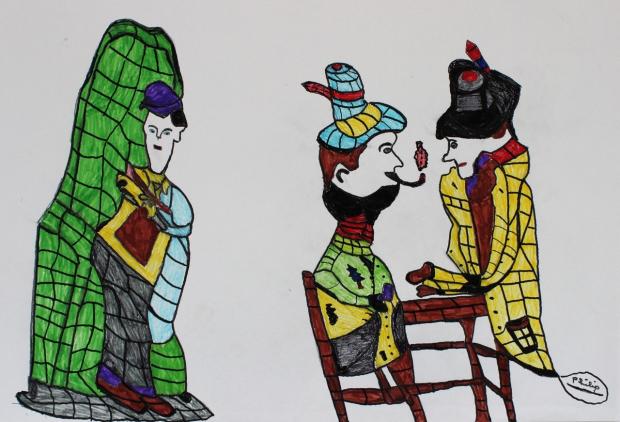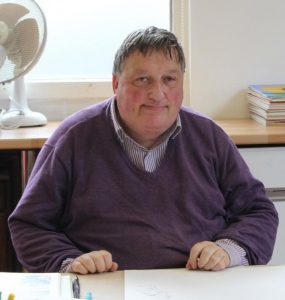 The work of Phillip Knights, who's supported by Creative Support in Darlington, has been chosen by world renowned artist Grayson Perry to feature in a national art exhibition.
Philip's work was placed second in a competition judged by a team of distinguished artists including Grayson Perry, famous for his ceramic vases, tapestries and cross-dressing.
Phillip attends the Community Art Project in Darlington along with the winner of the competition Alan Payler whose work, 'The Garden' explores colour through felt tip pen.
Alan said his work results from a gentle, delicate way of working where even large areas of colour are undertaken in small, careful steps.
Grayson Perry told the Northern Echo newspaper, "Art is a purely subjective thing. The winning work was the work of art that most closely aligned with something I would be happy to make myself and gave me joy."
Phillip's piece is called 'The Conversation.' He says he likes to create scenes of people, machines and objects. Sometimes inspired by his own imagination and sometimes by the things around him.
The exhibition has been organised by the charity Outside In https://outsidein.org.uk/, which provides a platform for artists who face significant barriers to the art world due to disability, health, social circumstances or isolation
Phillip and Alan's work will be part of an exhibition at Piano Nobile Gallery on King's Place in London. It will showcase 80 pieces from 80 artists across the country and explores the theme of 'environments.'
The exhibition runs until January 1 2020.

Media Enquiries
Sally Wheatman
Communications Officer
Telephone 0161 236 0829