Gender Pay Gap 2022
On the snapshot date of the 5th April 2022  Creative Support employed 4,112 employees who were on permanent contracts and therefore regarded as full pay relevant staff.  Of those 3,153 were female and 959 were male, representing 76.7% and 23.3% respectively, the percentages are almost the same as 2021.  In line with the rest of the social care sector, Creative Support employs significantly more women than men although this is less pronounced than the average gender distribution across the national social care workforce (83% female and 17% male, derived from the Skills For Care 'Work Estimates' figures for 2019).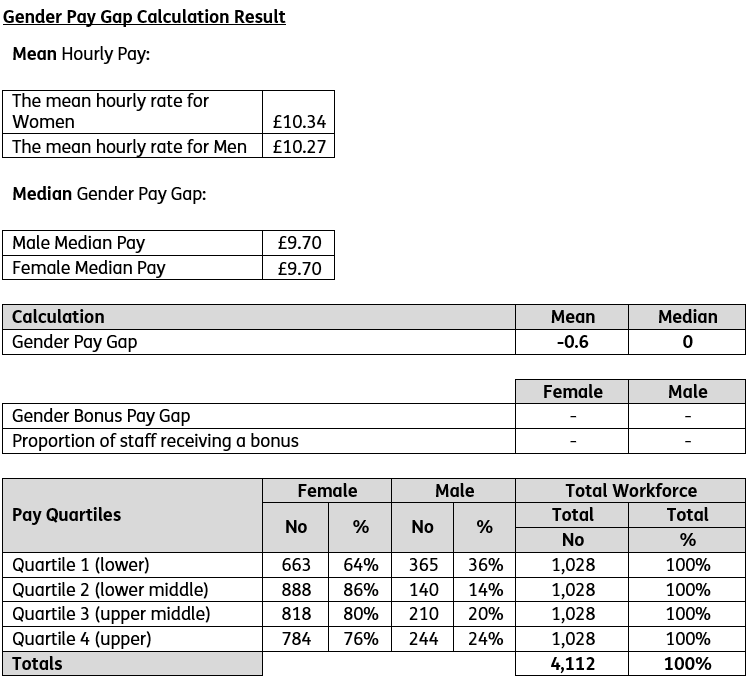 Narrative
Data is representative of the snapshot period of 5th April 2022
In terms of bonuses, only rare incentives and vouchers are paid, at set weeks in the year and none were received in on 5th April 2022.  Likewise with relief payments, none were received on this date so are not included in the normal payment calculations for this period.
Anyone on annual leave during this period is still included in full-time.
Given that 76.7% of Creative Support full relevant employees were female in the snapshot period it matches that they are more highly represented in each quartile.
The mean gender gap has decreased very slightly, -0.6% between male and female workers, from 2021, the median remains the same for both male and female workers.
Plan
To continue to try to appeal to more men through the design and advertisement of new roles.
---