Dementia-Friendly Housing and Communities
Alzheimer's is a type of dementia, affecting around one in every 14 people over the age of 65. People with Alzheimer's have additional support needs, and a dementia-friendly community can help to make sure they are comfortable, safe and supported in their everyday life.
Around 850,000 people in the UK are living with dementia, and less than half say that they feel a part of their community. Putting helpful features in homes can improve the quality of life and safety for residents, such as cutting the risk of falls by 26%. Dementia-friendly living should help with recognising objects, places or people. It should also assist those who leave the house and become lost, and be linked to the local community to reduce the risk of isolation and boredom.
We spoke to Anita Cameron, Deputy Manager of The Laurels. Dementia-friendly services such as the Laurels have specially trained staff and are designed to include accessible features.
"It's really important to respect the choices of people living with dementia" says Anita. "We have to respect that they can't always understand and retain what we're saying. For example, if you asked them to choose between two meals, they'd likely repeat the last thing you said. You should show visual signs so they can see what they're getting. We fetch the meals themselves so they see it in front of them." Signs with pictures and words are very useful, and labelling cupboards, doors, and hot and cold taps can be handy and useful reminders.
Another crucial feature of dementia-friendly homes is having contrast. Light switches and grab rails in the showers and toilets should be different colours to the walls so they are easier to see. There should also be noticeable flooring near steps, such as brightly coloured tape or paint. "Bland colours are no good" says Anita. "You need bright cups and plates so people can be comfortable and see what they're doing- chicken and cauliflower on a white plate is no good. There needs to be contrast everywhere."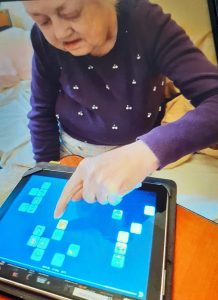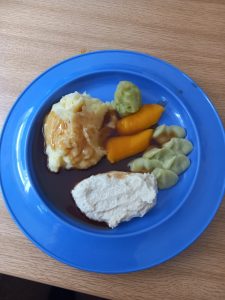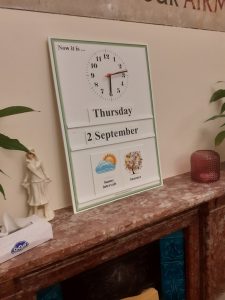 Technology is also becoming more widely used. "We have things to hand which help to keep their minds stimulated, like iPads with sensory activities. We also have sensor mats, so if anyone's at risk of fall it sends an alarm." However, objects such as mats and rugs can become confusing to people with limited sight and who are vulnerable to perception problems. Anita explained how the sensor mats and carpet runners were often mistaken for "a black hole".
"I don't think people understand [dementia], it's only the mental health team who do. We need worldwide awareness" says Anita. This month is all about bringing awareness to Alzheimer's disease and other types of dementia. By sharing information we hope to bring about some type of change- if we don't understand the potential problems then it's less likely we will be able to help. "We need training throughout the country to make people aware" continues Anita. The solutions are not always as simple as we think, as you have to try and understand what someone may be thinking or feeling. "If you see someone walking around with a cup for an hour, someone taking it could be distressing. They might think it's theirs."
"You need patience. We treat everybody as though they're our family." When asked why it is so important to make sure that housing is dementia-friendly, Anita said "just because they have a disease doesn't mean to you can stop giving privacy, dignity, choice and respect."
For more information on Alzheimer's, you can read our introduction here.
You can also visit The Laurel's Facebook Page