Creative Support's 'model service' in Doncaster rated 'outstanding' in all areas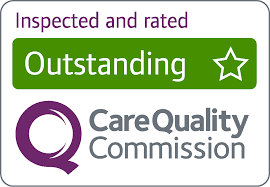 Creative Support's services for people with a learning disability in Doncaster have been classed as 'Outstanding' in all areas following a Care Quality Commission inspection published this week.
The CQC asks five questions of all the services it inspects: Is it safe? Is it effective? Is it caring? Is it responsive and is it well-led? The services in Doncaster were classed as outstanding in all those categories. It is just one of eight similar services in the country to be rated outstanding across the board.
The CQC Inspector said the service, which provides support for 77 people with a learning disability, autism and a range of other needs, clearly demonstrated how it consistently met the characteristics of providing outstanding care.
"People were at the heart of the service and the registered managers and staff were fully committed to providing high-quality, person-centred care. Staff were clearly committed and compassionate, striving to provide outstanding care, with excellent outcomes at all times. People were treated with exceptional kindness, dignity and respect and received their care and support from a highly motivated and dedicated staff team," the report says.
The Inspector spoke to ten people who use the service, ten members of staff, other professionals involved with the service and relatives. Relatives and professionals referred to the trust, kindness, understanding and sensitivity to people's individual needs as reasons why they felt the service was exceptional. One of those interviewed said; "I think it is a model service. It sets the highest standards and really demonstrates what is possible in adult social care and supported living."
The inspector recognised Creative Support's approach to collaborative working: "The provider and registered managers had developed many excellent relationships with social care professionals, NHS staff, GPs and the voluntary sector."
The report says that respect for privacy and dignity is at the heart of culture and values. It is embedded in everything that the service and its staff do. People and staff feel respected, listened to and influential.
It also says that registered managers and the staff team were highly creative and innovative in supporting people to actively access interests and activities that were important to them. One tenant expressed a wish to have a pet tortoise. Staff discussed the commitment, cost and responsibility of having a pet and supported the tenant to write to the housing provider. The tenant was delighted to tell the inspector she is now the proud owner of a tortoise called 'Tilly.
The inspector found arrangements for social activities and, where appropriate, education and work, were innovative, met individual needs and followed best practice guidelines so people could live as full a life as possible.
"I am extremely proud of my managers and all the support staff. They repeatedly go above and beyond to make a difference everyday and enable our clients to live their best lives. Providing exceptional care is not an act it's a habit that's embedded in all of the team," said Area Manager Leanne Paterson.
Creative Support CEO Anna Lunts said: "We are extremely proud of our high quality supported living services in Doncaster and are over-joyed that the hard work of our staff and managers in establishing and running this exceptional service has been recognised so positively by the CQC."
Cabinet Member for Adult Social Care at Doncaster Council, Councillor Rachael Blake said: "We are immensely proud of everyone involved in the running of Creative Support in Doncaster. This 'Outstanding' CQC inspection outcome is testament to the team's dedication to offering an environment where people can thrive and have choice in how they live their lives, and we look forward to seeing these practices replicated across Doncaster."
---
---
CQC Doncaster Personalised Services Report (easy read version)
---