Creative Support service that 'has transformed peoples' lives' rated 'outstanding'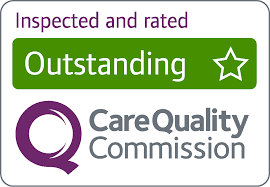 New Release
Tuesday 5th May 2020
Creative Support's Intensive Support service in Braintree has been rated 'outstanding' following a Care Quality Commission inspection undertaken in February and March this year.
The CQC asks five questions of all the services it inspects: Is it safe? Is it effective? Is it caring? Is it responsive and is it well-led? The Essex service was rated 'outstanding' in the effective and well-led categories and 'good' in the other three with an overall rating of 'outstanding.'
In their report, published last week, inspectors said: "The service had truly transformed the lives of the people they supported…People were at the heart of the service and were supported to have maximum choice and control of their lives. Staff supported them in the least restrictive way possible and in their best interests."
The report says staff had completed a high level of training which provided them with the expertise to assess, monitor and support people with complex needs.
Many of the people using the service had spent prolonged periods of their life in institutional care. All of the people discharged to the service have remained living there. Inspectors said this in itself was a testament to the outstanding effectiveness of the service over a period of time.
Before moving into the service, staff supported people through a transition period to help them adjust to their new home.
The report says "The service has transformed the lives of people, maximising their independence and giving them the opportunity to develop interests and life skills that were completely new to them. For example, managing day-to-day finances, choosing and preparing meals, keeping a pet and accessing the community."
Inspectors said that people had been able to take part in experiences and activities that had never seemed possible without the dedicated and focused support from staff.
Relatives praised the commitment of the staff and the lengths they went to in order to ensure the delivery of high-quality care. One said: "There is a great sense of integrity amongst staff. They care a lot about their clients and try hard to give each person the support they need."
The report described how people's skills and interests were encouraged and celebrated with one person being supported to build a BBQ and seating area. Another said staff had supported him to visit art galleries and research different artists and paintings which he then interpreted into his own work. Inspectors saw this displayed throughout his home.
Inspectors also praised collaborative working with other professionals: 'Staff had built extremely effective working relationships with other health and social care professionals involved in people's care to ensure they received a high level of support.
"Regular Multi-Disciplinary Team (MDT) working and reviews ensured people's voices were heard and their rights were upheld. The MDT was comprised of staff from a range of areas of expertise including social workers, psychiatrists and members of the forensic team. An example of this was the use of PBS (Positive Behaviour Support) which helped people to reduce the frequency of behaviours that were challenging, by encouraging them to focus their energies into setting individual goals and celebrating success."
Creative Support CEO, Anna Lunts, said she was extremely proud of the service, the manager and staff and the progress of the people they support:
"Our well trained staff began working with people many months before they moved into the service to prepare them for living as independently as possible in their own flats. The fact that they have flourished and thrived the way they have is a testament to the service manager and all our dedicated staff who are committed to empowering people to make choices which direct their own lives. I am delighted the CQC has recognised this exceptional service not only for the staff and the people we support but also for others who are living unnecessarily in institutions. Services like this show that with proper investment, training and individualised support, people can live happily and successfully in the community."
The full report is available on the CQC website:
https://www.cqc.org.uk/location/1-5892162801
Media Contact:
Sally Wheatman email: Sally.wheatman@creativesupport.co.uk