Creative Space Centre woodland walk officially openend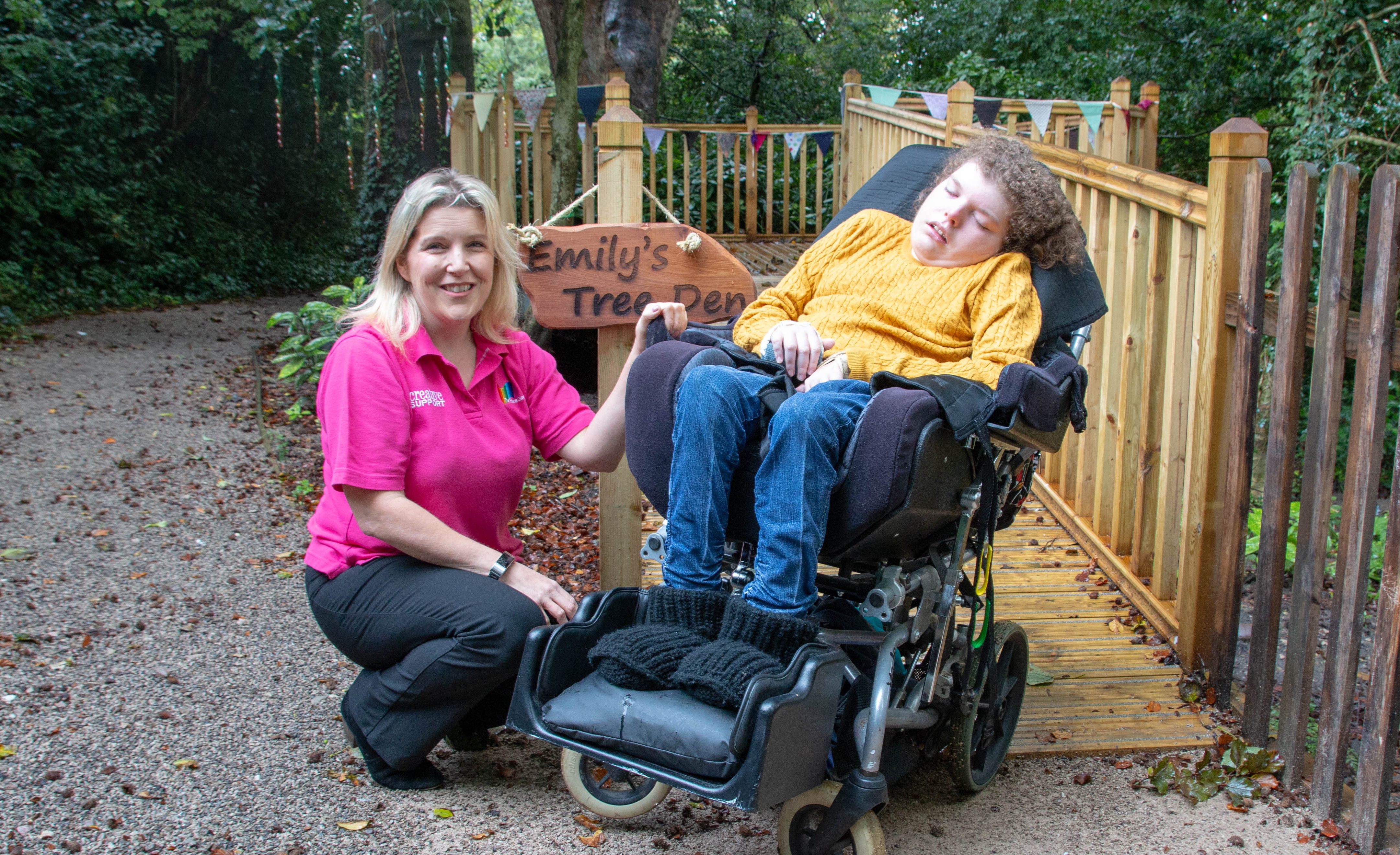 A sensory woodland walk, pioneered by Creative Space Centre founder, Alison Birch, has been officially opened this week.
Plans for the walk, at the Preston based centre, were first drawn up five years ago when Alison came up with the idea of creating an outside sensory experience. Now, with the help of a team of landscapers from Kirkham Prison, business man and fundraiser Pete Marquis and the Friends of Space charity, the plans have been brought to life.
"The woods were there and it just seemed such a waste not to be able to access them. Space is about sensory stimulation and the power of sound and light to affect your unconscious mind. In the sensory rooms sound and light form the basis of what happens and equally outside it's the same principle – that sound and light in the woods will affect the unconscious mind and because nature and wellbeing is such a big thing now, why shouldn't it be for our service users?" said Alison.
"Getting people out there within the woods was the first step so the starting point was making an accessible path, which Kirkham Prison have made for us. Once you are in, we use the natural foliage to create dens and there are hidden pathways to go around. We've tried to cater for those who are really active, so for example, there's a tunnel they can scramble through and those who are in wheelchairs who can be pushed under a foliage tunnel making it suitable for all," she added.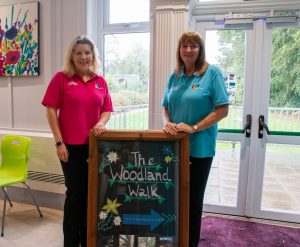 One of the main features of the woodland walk is a large, accessible tree den. Creative Space manager, Jane Robinson, and her family have raised over £4,000 to build the den. Jane's oldest daughter, 15-year-old Emily, has a life limiting condition and is a wheel chair user:
"Emily uses the Space Centre all the time and obviously it's a huge part of our life. We just wanted something there that she could access and get the most out of now and other people with similar conditions could appreciate and enjoy," said Jane.
Jane, her friends and family have taken part in a range of sponsored events – including White Collar Wrestling, Ride London Cycle Ride and a 10km run – to raise money for the tree den.
 "It's a raised platform, not too high because it's ramped access so we have been governed by the steepness of the ramp but it certainly gives you the feeling of being elevated. You can look down on people, you're in the trees, you're in the leaves so it gives you a whole new perspective. On one side you can see a busy road but on the other side there's a beautiful garden. You can get up close to the tree trunks and you can experience the weather. As it goes through the seasons you'll get a lot of different experiences from the leaf cover and the weather," said Jane.
The sensory woodland walk also includes wind chimes, tunnels, a petal drum, a tortoise that makes sounds and a rain wheel. The walk, sponsored by businessman and fundraiser Pete Marquis through the Friends of Space charity, was officially opened on Tuesday (October 1st)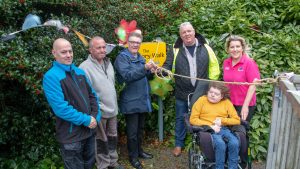 Caption:
Pictured at the official opening of the Creative Space Woodland Walk (LtoR) are Jason Clark and Steve Farnworth, supervisors for the Kirkham Prison Team who have carried out all the landscaping for the project, John Gillmore from BBC Radio Lancashire, Pete Marquis, Jane Robinson and her daughter Emily.
Media Enquiries
Sally Wheatman
Communications Officer
Telephone 0161 236 0829
Email: Sally.wheatman@creativesupport.co.uk
Notes to Editors:
Creative Support Limited is a Registered Society under the Co-operative and Community Benefit Societies Act 2014, providing a range of person-centered services for people with mental health needs, learning disabilities and other support needs. Founded in 1990, Creative Support has gained an excellent reputation for its dynamic approach, strong values, and commitment to quality. The organisation is one of the largest national not-for-profit providers of prevention and care services in the country, working in 66 local authority areas, employing 5,600 staff and supporting 7,000 people.