Creative Life Magazine – OUT NOW

We are delighted to announce that our latest edition of Creative Life magazine is now available to read and enjoy! This issue is a special celebratory edition, jam-packed full of inspirational stories from people across the country who have been part of our journey over the last 30 years.
From stories from our longstanding staff members, who have progressed their careers with us, to service users who have been able to make positive changes in their lives with our support – Creative Life wouldn't be the same without the amazing people who share their stories.
We would like to say a big thank you to all the staff and service users who got involved! If you would like to contribute to our next edition of Creative Life, please do get in touch with marketing@creativesupport.co.uk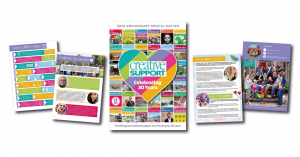 We are posting a copy of Creative Life to all our services, but if you would like extra copies, then do get in touch with Marketing, and we can send you more! You can also read it online, by clicking the here!