A day in the life of… a Garden Pathways Mentor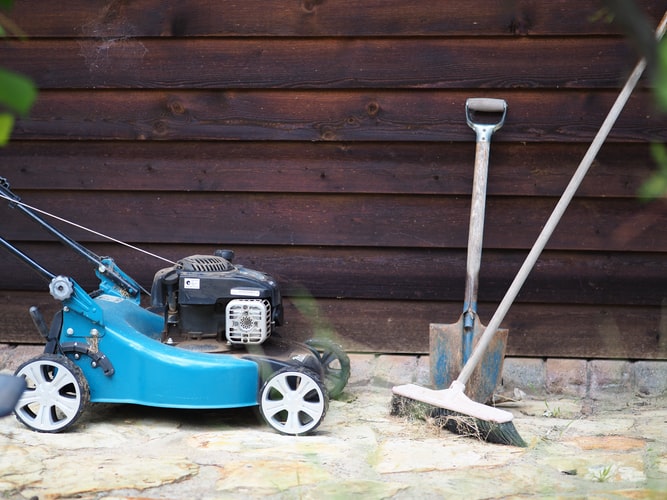 We spoke to Jaci, a Garden Pathways Service Co-ordinator in Dudley, and Daniela, a Garden Pathways Mentor, who have walked us through a day in the life of…a Garden Pathways Mentor. Read on to hear more about working in the great outdoors and what it feels like to work in the community.
"We start work a little earlier than 9am so it gives me time to make sure everything is in order and ready for the day. We check out the vans, make sure we have all the equipment we'll need for the day and that we're all fuelled up and ready to go.
Then, once we've done our checks, we drive to the office to meet up with the trainees. We usually have four trainees which is limited because of Covid, but once restrictions have fully eased this can go up to five as we only have room for five people in the vans. We check the trainees have all the correct PPE and do the lateral flow tests with them before we head off.
Usually we'll have either myself (Daniela) and another Garden Pathways Mentor out on different jobs supporting some of our trainees and Jaci will come along and join us on different days. We like to try and take out different trainees so they can get used to working with different people and socialise with other trainees.
A major part of this job is the support we provide for our trainees, which go onto employment through this work and the additional things we support them with aside from the gardening side. The gardening element helps them to learn lots of skills, but we supplement this with additional skills training such as interview help or financial management. It all goes hand in hand.
We mow the lawns and edge them, trim the hedges, and more. We don't do any planting ourselves but we'll maintain them if they're already there and growing. We can only work up to six feet in height so we don't do too much tree maintenance, we'd need a tree surgeon for that. We usually do an average of five gardens day but sometimes this could be eight as some might take 15 minutes while others might take two hours; some of the gardens are gigantic!
We have a break for lunch while we're out and will sit on the grass or in the van and enjoy the benefits of the great outdoors. We chat with all the trainees and check in with them to make sure they're okay and see if there are any issues. This could be personal or professional, but either way we try and make sure that whatever they flag we try and help them with. It's great to be able to offer support from both a personal perspective and a professional one as we have the contacts within our organisation to offer further support should they need it.
After lunch, we carry on doing more gardens around the area before finishing around 4:30pm which gives us time to drive back to the base, drop off the trainees and the vans all ready for the next day.
Every Friday we spend time at the office making sure that we have our schedule in place, that our checks have been done, and that we are on track with each individual's learning development plan. We sit down with each trainee when they start to plan their goals and we tailor everything towards their skills, what they want to learn, and how we can help them. Our trainees typically don't have any previous experience in employment so this is a way for them to learn what it's like to have that work structure and work to expectations and goals.
Our trainees come to us for around 12 months and then they usually go into further employment. It's great to facilitate their move on and see them grow in confidence and skillset over the year. Daniela said "It's a life enhancing job from two angles- from supporting our trainees to helping tenants maintain their garden. It's a great feeling to work with our trainees and help them on their pathways to employment, and also to speak with the tenants whose gardens we work on who might be isolated or not get the chance to speak to many people."
Once a month we also take the trainees on a trip to the Black Country Museum where we volunteer maintaining the gardens which is a really great place to work. Every day is different and we work all over Dudley meeting new people and working in interesting places.
Jaci said: "My favourite part of the job is making tenants happy. You get to see the effects of your hard work when you speak to them and see how happy they are that their garden looks lovely and tidy and can suddenly use and enjoy their garden again. I remember we helped one lady with her garden as she found it difficult to keep up with it, and she said to us afterwards "I'm so happy I can now hang my washing on the line again." It makes a big impact on people and that means so much to us."
"This is a really fun job and we have a really good laugh as a team, but it is hard work! We're out and about all day meeting people in the community and making their gardens look lovely. It's a lot of fun with great rewards." Said Jaci.
Daniela said working under Jaci as a manager is fantastic. "Jaci is a marvellous manager. She is very hands on and comes out on jobs with us a lot. She has lots of experience and works on a lot of stuff in the background like all the paperwork, but she started out as a Garden Pathways Mentor so she understands what it's like to work in the role which is invaluable. She ensures that all the Mentors are fully trained and confident before handing over certain work to take away some of the pressure and that we carry out the work safely and as easily as possible."
We currently have a position available for a new Garden Pathways Mentor in Dudley. If you like the sound of a day in the life of the role, why not check out the job application here: Garden Pathways Mentor
Jaci said: "For the people who would like to come and join us here, don't worry if you don't have so much hands on gardening experience- if you enjoy being outside and doing physical work or have an interest or passion for gardening then that's all we need. Gardening can be taught- the support you provide to the trainees and being passionate about helping people is the main side of the role. If you have previous care or support experience and this sounds like you, then you're already an ideal candidate!"
She explained the required skills for the job include: "Being physically fit and not mind doing physical activities like mowing. You'll also need education, experience, or a qualification in social care- if you have experience working with people who have autism, a learning disability, or mental health needs then that is a plus. You'll need a driving licence and be comfortable transporting people and equipment in a van, and also knowledge of Excel."
If this sounds like you and you enjoy being in the great outdoors, supporting people and helping them to maintain their beautiful gardens, click the link below to learn more about the role and apply. The deadline will remain open until the role has been filled so make sure to submit your applications soon!